by Kemisola Filani
They say a queen without a king is still a queen… but what about the ring?
It sounds crazy but it's happening and it's called Sologamy. That's right, more and more women are no longer waiting for a man to put a ring on it but instead are choosing to commit and say "I do" to themselves.
Nadine Schweigert (36), Yasmin Eleby (40) and Chen Wei-yih (30), all successful women in their careers but not so successful in love. All three of these women are married to their own self.
The ceremony is not recognized by the church, however, it is a "spiritual" affair witnessed by close friends, officiating minister and family, decked out with bridesmaids, a reception and all!
36 year old US woman, Nadine Schweigert, was tired of living single and tired of men, so she walked the aisle with herself in 2012. At the wedding ceremony, attended by 40 of her friends, Nadine read her vows: "I, Nadine, promise to enjoy inhabiting my own life and to relish a lifelong love affair with my beautiful self." and presented herself with a ring and invited all guests to "blow kisses to the whole world".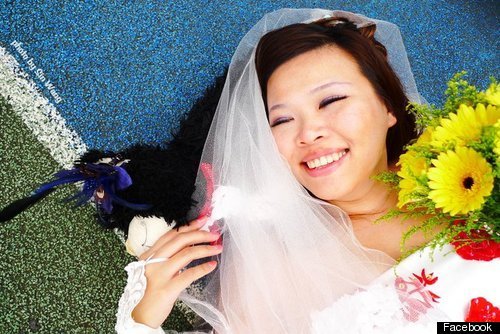 30 year Chen Wei-yih had hers in 2010. "Age 30 is a prime period for me," Chen is quoted by Reuters as saying. "My work and experience are in good shape, but I haven't found a partner, so what can I do?
Chen's defiant act has received heaps of praise — mostly from Asian women — on her Facebook page, which features a personal quote that reads, "We must love ourselves before we love others."
The latest of them is Yamsin Eleby who married herself a few days ago.
With her 40th birthday approaching and no potential husband in sight, Yasmin Eleby chose to gift herself with the elaborate wedding she'd always dreamed of. However, instead of vowing to love, forgive and honor a significant other, the Houston resident made the lifelong promises to herself.
She was walked down the aisle and given away (given back to herself) by her mother.
"I really don't have the words to adequately describe the plethora of emotions that I've felt over the past few weeks, particularly on Saturday, January 3rd," the bride gushed on Facebook.
While some say "Their wedding planners are evil. Their family members didn't advise them at all. Instead of doing this they should have gone to the coventry to become a nun."
Some also see it as "being courageous and iconic, they pushed the boundaries and refused to let the society dictate what to do to them….they  wanted a wedding and they courageously threw one. As long as they are happy, that is good enough."
We say live and let live!