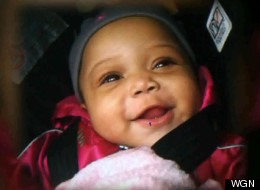 Six-month-old Jonylah Watkins was shot five times Monday. She died of her wounds in the hospital Tuesday and no arrests have been made in her shooting death.
The 6-month-old infant girl shot five times on Chicago's South Side Monday died in the hospital Tuesday morning.
Jonylah Watkins was rushed to Comer Children's Hospital Monday afternoon in serious-to-critical condition after being shot in the 6500 block of South Maryland Avenue in the city's Woodlawn neighborhood around 12:48 p.m. Her father, Jonathan Watkins, had been changing her diaper in the front passenger seat of a Chevy Venture minivan when a gunman approached them and opened fire. He fled in a waiting van.
Jonylah had sustained wounds in her lung, liver, leg, shoulder and bowel or intestine, according to DNAinfo Chicago, and had undergone at least five hours of surgery.
"This morning, the baby passed away," the Rev. Corey Brooks, who is acting as a spokesman for the family, told the Chicago Tribune. "We have another tragedy in the city of Chicago."
"The city of Chicago should be outraged that in our city a 6-month-old baby could be shot and killed," Brooks added Tuesday, according to DNAinfo.
Brooks told the Tribune his Woodlawn-based New Beginnings Church would offer up to a $5,000 reward for information leading to the arrest of Jonylah's killer. Another community group also agreed to chip in $1,000, bringing the total reward to $6,000.
Jonylah's father was also wounded in the shooting — being struck in the side and buttocks, plus a graze wound to his cheek — and was taken to Northwestern Memorial Hospital in serious-to-critical condition. According to NBC Chicago, he remains in critical condition as of Tuesday morning.
Jonathan Watkins told the Chicago Sun-Times Tuesday that he has no idea who opened fire on him and his child, but sources told the paper that the shooting was possibly prompted by an angry Facebook post.
Police say the father has known gang affiliations, a claim Police Superintendent Garry McCarthy took up in a Tuesday press conference, according to the Associated Press:
He said police weren't sure yet whether Watkins will decide to cooperate in the investigation. … "No child, certainly not an infant, should be a victim of gang violence," McCarthy said. … "He was obviously targeted," McCarthy said of Jonathan Watkins. Police were trying to determine whether a reported Facebook post threatening Watkins actually exists, McCarthy said.
Jonylah's mother, Judy Watkins, was previously shot while carrying the child. She was working at McDonald's at the time of the Monday shooting, according to the Tribune. Judy and Jonathan had recently gotten married.
On Tuesday, Chicago Mayor Rahm Emanuel called Jonylah's murder "senseless" and "despicable," according to DNAinfo.
A relative of Jonylah's, Dominique Young, told ABC Chicago that gun violence has been commonplace in the neighborhood, saying, "There is always someone getting shot in this neighborhood. We are close together, and we know them. There are killings all the time."
No one is in custody in the shooting as of Tuesday afternoon and police are investigating.
Gun violence in Chicago has earned the city national media attention, even as itshomicide rate in February plummeted to a 56-year-low. Previously, in January, 40 homicides were reported by police.
Prior to the shooting on Monday, Superintendent McCarthy touted that shootings in Chicago so far this year are down 19 percent compared to last year, according to NBC. Homicides, McCarthy said in a press conference, are also down by 26 percent compared to 2012.
Jonylah's slaying reportedly inspired a surge of submissions to the "500 Project," a social media campaign launched by Chicagoan Bryant Cross. The campaign aims to make a message of anti-violence more visible.