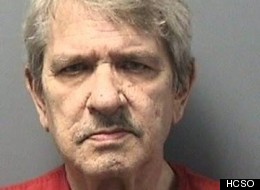 Police collared a 70-year-old Brandon, Fla., man after he confessed to killing another man who had sex with his wife in the couple's house.
Ralph Lewis Wald called 911 on Sunday and told a dispatcher that he'd shot 32-year-old Walter Lee Conley, whom he'd reportedly caught "fornicating" with his 42-year-old wife, according to a Hillsborough County Sheriff's Office release.
He waited for cops to arrive, and reportedly confessed to the killing again after he was read his Miranda rights. He was charged with second-degree murder.
He told police that he'd woken up before midnight on Sunday to get a drink from the kitchen, and saw the lovers having sex in his living room, according to Patch. He returned to his room, grabbed his firearm and allegedly shot Conley several times.
Conley died on the scene. Wald's wife, Johnna Flores, wasn't injured.
But it's not the first time this trio has been in trouble with the law. Flores was arrested two weeks after Oct. 2012 marriage to Wald for firing a shot at Conley. She's Wald's fifth wife, according to the Tampa Bay Times.
Flores had apparently been letting Conley stay at her home for several weeks, but wanted him to leave on Oct. 3. So she fired a bullet in his general direction.
Read more: Huffington Post