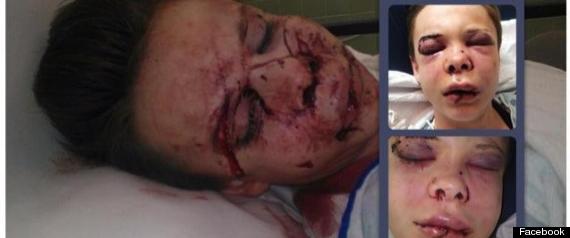 An Alabama woman is recovering after allegedly being attacked by her girlfriend's brother over Thanksgiving weekend.
Though details of the case are continuing to emerge, NBC affiliate Local 15 reports that 23-year-old Mallory Owens is being treated for injuries following a Nov. 22 assault by Travis Hawkins Jr. Owens, who was reportedly attending Thanksgiving dinner at the family home of girlfriend Ally Hawkins (Travis' sister) at the time of the attack, suffered multiple skull fractures and crushed bones, and had metal plates put under her eyes because of her injuries, according to reports.
Hawkins, Local 15's report notes, has been charged with second degree assault, though it remains unclear what may have prompted the attack.
Al.com cites Owens' sister says it wasn't the first time Hawkins had attacked Owens, noting: "He never liked Mallory and Ally to begin with. Mallory would never do anything to hurt anyone."
Avery Godwin added, "He should've been charged with attempted murder."
Echoing those sentiments was Kristi Taylor, Owens's mother. "The first time he attacked her with a pipe and hit her in the back of the head and on the back a few times," she is quoted by Fox 10 TV as saying. "People stepped in to help then."
A photo reportedly showing Owens in the hospital has since been posted on Facebook. "It is reported that the accused attackers family stood by, did not intervene, and have threatened the [victim's] family," the user wrote.
Meanwhile, an attorney said the Hawkins family "regret what happened" to Owens, but denied the accusation that the attack was a hate crime in any way.