Coming out may not always be easy. One father, who overheard his son on the phone discussing his intentions to reveal his sexuality, eased his child's worries by writing him the best note ever.
FCKH8.com, an equal rights organization, first posted the touching letter to Facebookon Friday morning. In the note, the father explains he overheard his son, Nate, talking on the phone about coming out. But the father tells him there is no need — he already knew, and he never cared.
"I've known you were gay since you were six," the father writes. "I've loved you since you were born."
He also added a sweet postscript, "Your mom and I think you and Mike make a cute couple."
Father's note to son, courtesy of FCKH8.com. Story continues below.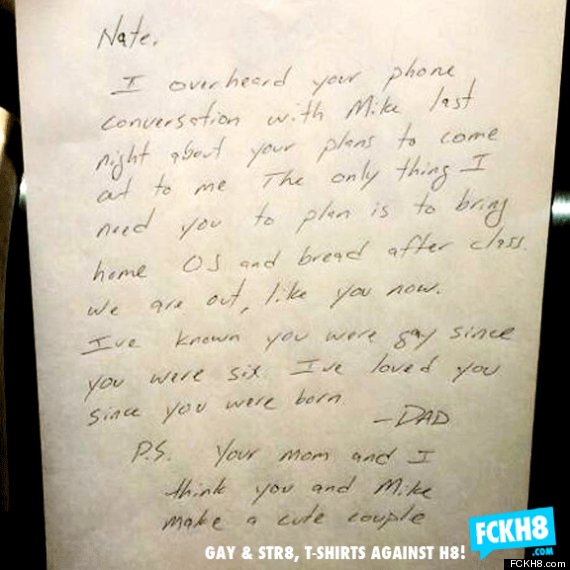 Also in the news Friday was an announcement from Sen. Rob Portman (R-Ohio) about his gay son's coming out and how it changed his opinion on marriage equality.
The conservative Portman revealed he changed his opinion of same-sex marriage two years ago when his son, Will, came out to him and his wife. "It allowed me to think of this issue from a new perspective, and that's of a Dad who loves his son a lot and wants him to have the same opportunities that his brother and sister would have — to have a relationship like Jane and I have had for over 26 years," Portman said during an interview with Ohio reporters.
These aren't the only moving coming out stories to make headlines recently.
In January, a 15-year-old girl named Laurel used a cake to come out to her parents. Along with a message in icing that read "I'm gay," the girl left a note asking for her parents' acceptance. Not only did she get it, but they all got to enjoy her baked dish.
That same month, Jacob Rudolph, a New Jersey teen, came out to his parents, along with his entire class, as LGBT at his high school graduation. After being named "Class Actor," Rudolph delivered a speech to his family and peers, saying, "So take me, leave me or move me out of the way, because I am what I am, and that's how I'm going to act from now on."
Read more: HuffPost