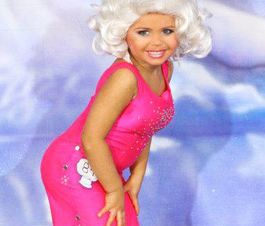 If parents are putting breast and butt pads on five year old kids, should they lose custody?  After all, putting a woman's body and face on a little girl only brings trouble from dirty old men.
That's what's being decided in a lawsuit in California this week.  The custody case of Madysin "Maddy" Verst has put a spotlight on the beauty pageant industry and has led to a fierce debate over what should happen to children who are made to look like grown-ups by their own parents.
The 5-year old girl appeared on the show, "Toddlers & Tiaras" and was literally dressed to look like Dolly Parton, with breasts and a rear end that poked out like nobody's business.   She also competed on television as a "sexy police officer."
Maddy's father, Bill Verst, is pushing for custody of his little girl after the mother, Lindsay Jackson, put the child on the reality show.   He says that the mother's actions justify his custody of the little girl.
Maybe parents should let their kids grow up before renting their bodies out for the world to enjoy.  Some might say this is just a wee bit sick.