Seun Egbegbe on Monday night made a U-turn decision as he took to Instagram to apologise for the inconveniences he might have caused his ex-lover, Toyin Aimakhu after threatening producers not to work with the Nollywood actress.
See below, his apologetic post which has now been deleted.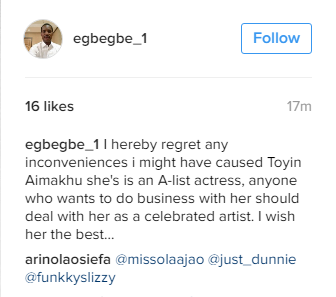 It has been reported that the turn in events happened after Toyin got him to sign an undertaking to stop his violent threats in the presence of her lawyer and the Commissioner of Police in Lagos yesterday.
Seun was purportedly detained by the police two weeks ago and was released later on bail.
The actress had in March issued a statement disassociating herself from the film marketer after he reportedly went to meet the actress on location to seize her phone on cheating allegations.
Toyin then went off the radar for a while ,after asking the media to let her be.