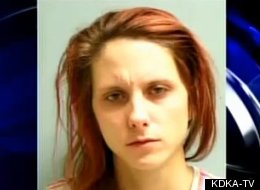 Hell hath no fury like a woman denied the last beer.
Vanessa Robinson was charged with aggravated assult after she allegedly cut boyfriend James Gallone multiple times after he tried leaving her apartment with the last beer — a Colt 45 to be specific, according to WPXI-TV.
The alcohol-oriented altercation started brewing last Thursday in Hempfield Township, Penn., when Gallone — who reportedly had purchased the beer — decided to leave, according to Trooper Steve Limani, of Pennsylvania State Police.
"The person who purchased the alcohol says, 'I'm leaving;' goes to grab the beer that he had purchased. The female was arguing with him that, 'you're not taking the beer,'" Limani told KDKA-TV. "It ended up becoming a physical altercation."
The fight started with kicking, pushing and beer being poured onto the floor, and then Robinson allegedly grabbed a knife.
"She cut him in the arm, neck, back and stomach areas prior to him being able to disarm her. He had to receive several stitches," Limani said, according to WTSP-TV.
Gallone was treated for his injuries which were not life-threatening, according to DreaminDemon.com.