Just like his 'arch-rival' turned friend- Wizkid, Davido's second album, Baddest has been delayed quite a number of times.
https://www.instagram.com/p/BAz8LMoov7V/
With the introduction of his deal with Sony Music Global and the condition that the album must possess a global appeal, one now expecte that the album release will take even longer. Davido confirmed this in a Channels Television interview in March, saying the album might not come out this year.
While we await the release of Baddest- which was originally meant to drop on June 8, 2015, YNaija has decided to whet your appetite with an array of potential international acts that may – or should – make the project.
While many names have been thrown in the mix, here are 7 artistes most likely to be featured on the album.
Future: Davido has been spotted with the American hip hop recording artiste on a couple of occasions.
The HKN singer even purchased a property in his neighbourhood; hosted him and his crew at Kamal Ajiboye's (Davido's manager) birthday celebration in Atlanta in August 2015.
The BET hip-hop award-winning act is expected to contribute his trap style of music (which involves him rapping and singing through the use of auto-tune over a bass-line instrumental) on a Davido track.
2. Young Thug: 
Davido hinted at a possible collaboration with American hot shot Young Thug in February, 2016.
The singer shared a video of himself and the Atlanta based act on a face time call.
WE MIGHT DROP THIS NEXT !! OBO X @thuggerthugger1 !! SLIME SEASON .. 🎧😜🦁 pic.twitter.com/MwEAcraiUV

— Davido (@iam_Davido) February 25, 2016
Like Future, Young Thug is also from Atlanta and is a trap artiste who rose to fame in 2014 for being featured on a string of singles, including the chart-toppers- About The Money and Lifestyle.
3. Wale: The American/Nigerian rapper is already making a name for himself in his fatherland as he has done quite a number of features with some A-listers in Nigeria such as Wizkid, Ice Prince and Reminisce.
In a leaked track-list for the album released in April 2015, Wale was already included on a song titled Won Le Ba produced by HKN's in-house producer, Shizzi.
We hope the song makes the album.
4. Trey Songz: This is also a sealed deal as the American singer's name was also included in the leaked track-list for the LP on a song titled Wetin U Say.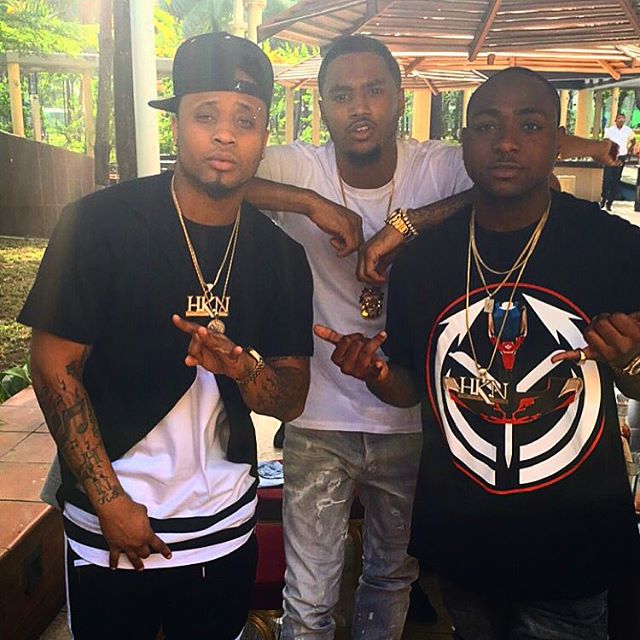 Also, when Trey Songz visited the country in December 2016 for his performance at Rhythm Unplugged, he confirmed the collaboration between him and Davido.
5. Drake:  Davido has been working on getting Drake to be on the album since 2013 as he mentioned this in countless interviews.
He then said, in an Encomium magazine interview in 2014, that he was in talks with Drake and Don Jazzy to come up with a track.
It appears that a song has been finally done with the 6 god as Davido hinted at this with a cryptic tweet on May 19, 2015.
6 GOD NEXT!! 😷😷😷

— Davido (@iam_Davido) March 19, 2015
6. Rae Sremmurd: Davido was recently spotted at a studio session with the American hip hop duo, composed of two brothers, Khalif "Swae Lee" Brown and Aaquil "Slim Jimmi" Brown.
They are best known for their platinum singles No Flex Zone and No Type which peaked at numbers 23 and 9 on the US Billboard Hot 100 respectively.
The Atlanta-based rappers have been compared to the legendary Kriss Kross.
We expect them to also make the album.
7. T.I: Davido in February, 2016 talked about a collaboration between his label mate and cousin, Shina 'Sina Rambo' Adeleke and American rapper, Clifford Joseph Harris a.k.a T.I.
Well we cannot rule out a possible T.I and Davido song happening, can we?