by Reuben Daba
In Nigeria on Monday, an actor Chukwuemeka Bestwood was sentenced to three months in jail for homosexual acts. But in Malaysia, they are determined not to even let it get to that point. According to a Malaysian news website Malaysiakini Reports, that country's Education Ministry has "endorsed guidelines" to help parents identify gay and lesbian "symptoms" in their children.
The list has eight "symptoms," with four for gays and four for lesbians. It is quite a funny list though.
See snapshot from the Malaysiakini website below: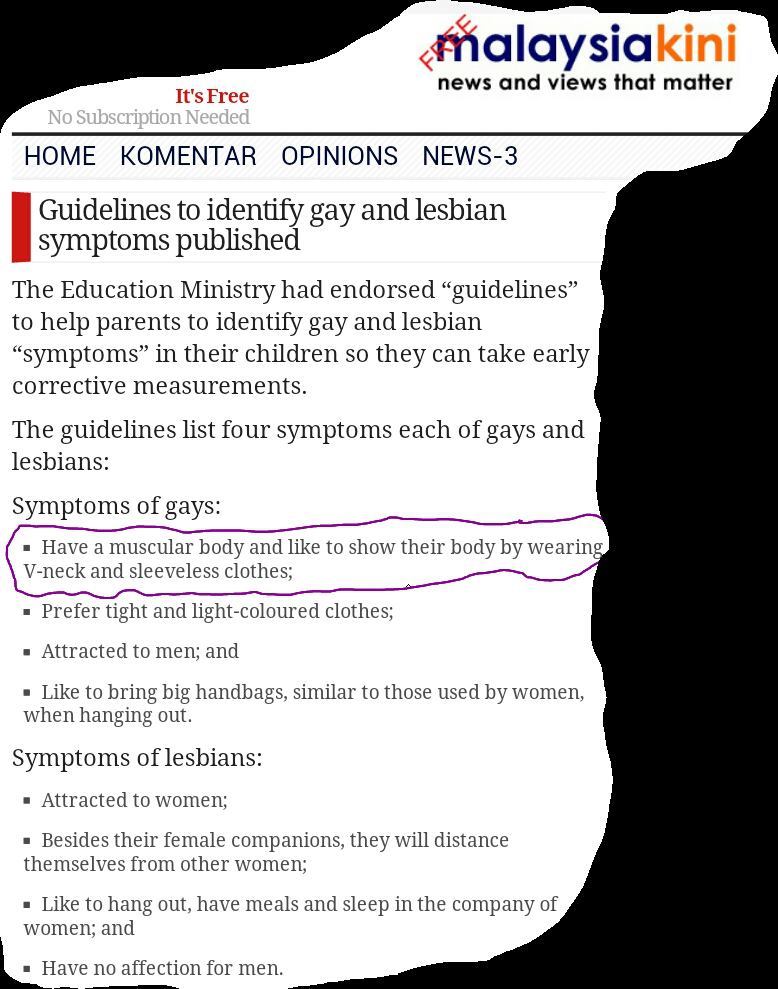 (Credit: Facebook/Christabel Campbell)
The guidleines were launched last week during a seminar in the Malaysian city of Penang titled 'Parenting in addressing the issue of LGBTs.' It was officiated by the Deputy Education Minister of Malaysia, Mohd Puad Zarkashi. The city of Penang is the fourth Malaysian city to hold such a seminar.
The guideline stated that "Once the children have these symptoms, immediate attention should be given."
In his remarks at the event which had over 1500 teachers and parents in attendance, the Deputy Education Minister said that: "Youths are easily influenced by websites and blogs relating to LGBT groups. This can also spread among their friends. We are worried that this happens during schooling time."
A lot of activists have expressed outrage over the guidelines.
"The Ministry of Education is now officially a bully," Malaysian LGBT activist Pang Khee Teik told Free Malaysia Today. "I never presumed to be in the position to teach the meaning of education to the people running the Ministry of Education. But it has come to that."
"[The ministry] must stop this inhuman campaign against vulnerable children. It should teach all children to be confident and to respect each other no matter who they are," he said.
In Malaysia, sodomy is a crime punishable by as much as 20 years in prison in the Islamic nation.
However, according to the New York Times, that law is rarely prosecuted.
According to a report by The Huffington Post,
However, Malaysian politician Anwar Ibrahim, who is currently the opposition leader in the Malaysian Parliament, was famously sentenced in 1998 to nine years in prison for engaging in sodomy with two men. He served six years in prison before the sodomy conviction was overturned. (Anwar was accused of sodomy again in 2008, but was acquitted earlier this year.)

Just this week, Azril Mohd Amin, the vice president of the Muslim Lawyers Association of Malaysia said that LGBT rights should be "excluded from a human rights declaration currently being drafted by Association of Southeast Asian Nations (ASEAN)," LGBT website Gay Star News reports.

In a letter to a Malaysian newspaper, Amin reportedly "argued that Malaysia must express its 'unalterable position on LGBTs' during the upcoming regional consultation on the draft declaration."

"Malaysian and those who are against LGBT rights are thereby protecting the human race from the secular fallacy, perpetrated by the United Nations, that human beings may do as they please, within their so-called "sovereign borders" (as laid down by the European powers)," he wrote, according to Gay Star News.