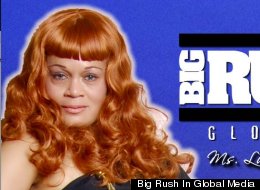 Lucy, you've got some explaining to do.
Dallas Police Lt. Regina Smith, who produced a video in which she performed under the name "Lucille Baller," has been placed on administrative leave over the song, the Dallas Morning News reported.
"Don't push Ms. Lucy, because you won't like the consequences," Smith raps in the video (below). "Mess with me or I will shoot a [expletive], 'cause Lucille Baller, she been to hell and back."
The song plays over a montage of photos that include Regina dressed in provocative clothing firing a gun. She is wearing a bright red wig reminiscent of 1950s TV comedian Lucille Ball.
In another video, a reality-style film titled "Broken Blues," Smith refers to her gun as "Ms. Lucy." In one scene, she also says, "You know what I would do to somebody who tried to take advantage of me? You see this bullet right here? I'll stick it from the rooter to the tooter and bring it out."
Both videos originally appeared on the website of Smith's independent record label and music production company, Big Rush In Global Media. The site is named after her late husband, Dallas Police Senior Corporal Norman Smith, who went by the nickname "Big Russian." He was fatally shot on the job in 2009.
Regina Smith removed the rap video from her site on Tuesday, after the Dallas Morning News and WFAA asked her for comment. She also told her supervisors about it, and she was placed on administrative leave later that day.
Smith has criticized the police department for its treatment of her following her husband's death, CBS 11 reported.
"I have been alone in my struggle, as far as support from the department," she told the station.
That department is now trying to find out whether or not Smith has committed any policy violations.
Dallas PD code of conduct prohibits any behavior that would lower the public's respect for the department or an individual officer.