It has been three weeks of action, thrills, tears, victories and excitements at the Rio Olympics. This year's games had many record-breaking feats as well unending and unforgettable drama.
We take a look at 10 athletes who 'owned' this year's games.
Michael Phelps
The American swimmer is without a doubt, the greatest Olympian ever. Phelps broke a 2000-year-old Olympics record set by Leonidas of Rhodes in 152 B.C. after winning 23 gold medals at the games.
Phelps now has 13 individual gold medals, one more than Leonidas' 12 individual victories. The ancient Greek runner won three different events in four consecutive Olympics, stretching from 164 B.C. to 152 B.C.
At this year's Olympics, Michael Phelps won 5 gold medals in the Men's 4x200m freestyle relay; Men's 200m individual medley; Men's 100m butterfly; Men's 4x100m medley relay and the Men's 4x100m freestyle relay.
Phelps also got a silver medal at the Men's 100m butterfly losing to Joseph Schooling of Singapore with 0.76 seconds.
Usain Bolt
World's fastest man, Usain Bolt bowed out of the Olympics with a 'triple triple'. Bolt won the 100m, 200m and 4x100m races to complete a treble.
The Jamaican now has 9 gold medals after winning the same races at the Beijing 2008, London 2012 Olympics and the Rio 2016 Olympics.
Bolt remains the greatest sprinter and still maintains his 9.58 record in the 100m.
Simone Biles
American Gymnast, Simone Biles left the 2016 Rio Olympics as one of the best gymnast ever with 5 medals- 4 gold medals and a Bronze medal.
Biles, who won three straight world championship titles, completed an extraordinary stretch that included a team gold for the 'Final Five' as well as individual golds in the all-around and vault and bronze on balance beam.
It could have been a clean sweep for Biles but a wobble and then a near-fall on the beam earned her bronze in an individual event.
Mohamed Farah
Somalian-Born British distance runner, Mo Farah successfully defended his London 2012 victory in the 5,000m and 10,000m races.
Farah won the Men's 10,000m race in 27:05.15 minutes as well as the Men's 5,00m in 13:03.30 minutes.
Farah is now a nine-time global champion, moving him above Ethiopian great Kenenisa Bekele.
He matched the feat of Finland's Lasse Viren, who completed the long-distance double at the Munich 1972 and Montreal 1976 Olympics.
Katie Ledecky
This list will be incomplete without 19-year-old American female swimmer, Katie Ledecky on it.
Ledecky got a medal in all women swimming freestyle events at the Rio Olympics.
She won gold medals at the Women's 200m freestyle, Women's 800m freestyle, Women's 400m freestyle, Women's 4x200m freestyle relay and a silver medal at the Women's 4x100m freestyle relay.
Ledecky is currently the world record holder in the Women's 400, 800 and 1500 metres freestyle.
Julius Yego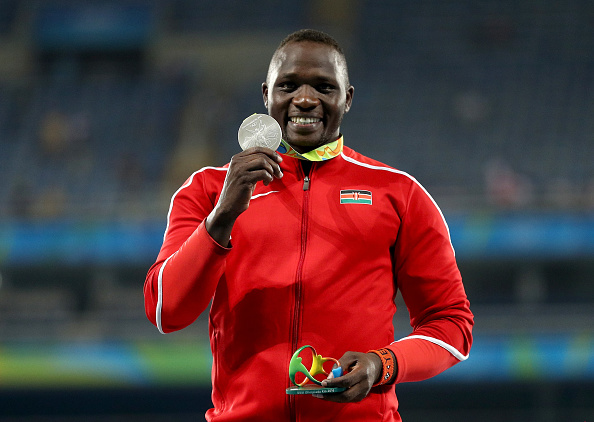 Julius Yego, a Kenyan javelin thrower might have won only a silver medal at the Olympics, the circumstances behind his winning is why he is on the list.
Yego decided he wanted to take up javelin throwing in a country dominated by distance runners.
He had no coach or appropriate equipments but fashioned his own javelin out of long sticks and turned to YouTube videos to watch the world's best Olympians and throwing tutorials to hone his technique.
Today, Yebo is an Olympic medalist, and commonwealth and African Javelin champion!
The best part is, Yebo got the silver with just one attempt, having been injured after his first throw.
Shaunae Miller
Bahamian sprinter, Shaunae Miller won the Women's 400m race but in a rather dramatic and unusual way.
Miller dived across the finish line after it looked like 4-time gold medalist, Allyson Felix was on her way to grab a fifth.
According to Miller, all her focus was on winning the gold medal, and she did got it.
Chierika Ukogu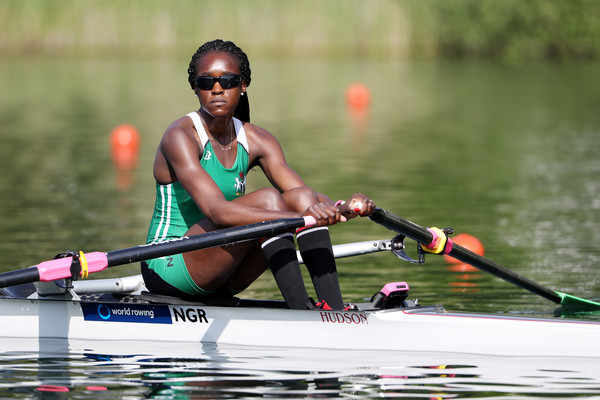 Chierika Ukogu is Nigeria's first rower at the Olympics. The American-Born Nigerian got to the final of the Women's Rowing event but did not get a medal after ranking 15th on the log.
Chierika like several other Nigerian athletes had funded herself to Rio with donations received from a GoFundMe page.
Ukogu was praised by Nigerians who believe it was an achievement qualifying for the finals in an event no Nigerian athlete has ever participated in.
Well, we think so too.
Divine Oduduru
Divine Oduduru shocked Nigerians and the world when he came second, closely behind Usain Bolt in the Men's 200m semi-finals qualifier.
Oduduru ran in heat 9 alongside Bolt and came second in a time of 20.34s.
Technically, Oduduru won the race, because Usain Bolt does not count- He is not human.
Unfortunately, the 5-time African junior champion could not proceed to the final after placing 7th in the Semi-final race.
Fabienne St. Louis
Fabienne, a Mauritian triathlete was diagnosed of cancer in December 2015, but that did not deter her from competing at the Olympics.
Fabienne has salivary cancer, a rare kind of cancer. She has had two surgeries on the tumour and cancerous cells.
Although she pulled out of the triathlon after the swim, Fabienne still remains one of those who 'took' the medals.