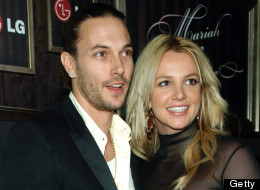 Britney Spears and ex-husband Kevin Federline attend a Grammy after-party in 2006.
It's been seven years since Britney Spears welcomed son Sean Preston with ex-husband Kevin Federline. But if a new RadarOnline report is to be believed, Kevin's brother Christopher filed court papers claiming that he is Sean's real father.
The report says that Christopher Federline requested a temporary restraining order against Britney on Dec. 18 in U.S. District Court in Tampa, Fla., on the grounds that Spears has "stolen from, blackmailed and harassed him."
According to RadarOnline, Christoper is accusing Spears of stealing his Capital One credit card, then threatening to reveal to the world that he fathered her older son, claiming, "I do confess I slept with Britney, and I am the true father, but the public does not need to know."
In a document obtained by Us Weekly, Christopher says that Britney used his card to purchase $4,569.02 worth of Archie and Betty Boop comics and issues of Mad Magazine, and that Comic Conquerors owner Charles Nunez told him Spears was a longtime customer but refused to refund Christoper's money.
Christopher also says that when he called Spears, she "laughed at me and told me my brother Kevin ruined her life" and "told me I have a small penis."
While Spears' rep has not responded to our request for comment, a source close to Spears told GossipCop that the story is "b.s."
According to the New York Daily News, Florida Judge Steven D. Merryday dismissed the case on Dec. 20, citing a June 2012 case involving Kim Kardashian as precedent. "In that case, Gino Romano filed for a temporary restraining order with the outrageous claim he had been assaulted by the Kardashian sisters," the paper says. "Both judges in the Romano v. Kardashian case concluded that Romano's claims were delusional."
– HuffPost