by Isi Esene
President Goodluck Jonathan shelved his trademark dark Niger Delta traditional outfit and the classic black bowler hat for something different on Friday on his return trip from Ghana where he attended the 45th Session of ECOWAS Heads of States and Governments meeting in Accra.
The President settled for a change of style wearing a creamy white flowing Babanriga, with a black cap and a matching shoe.
The presidential style change, however, drew reactions on Twitter with many followers wondering why our usually laid back president chose to 'socks up' his native attire.
Check out his looks here: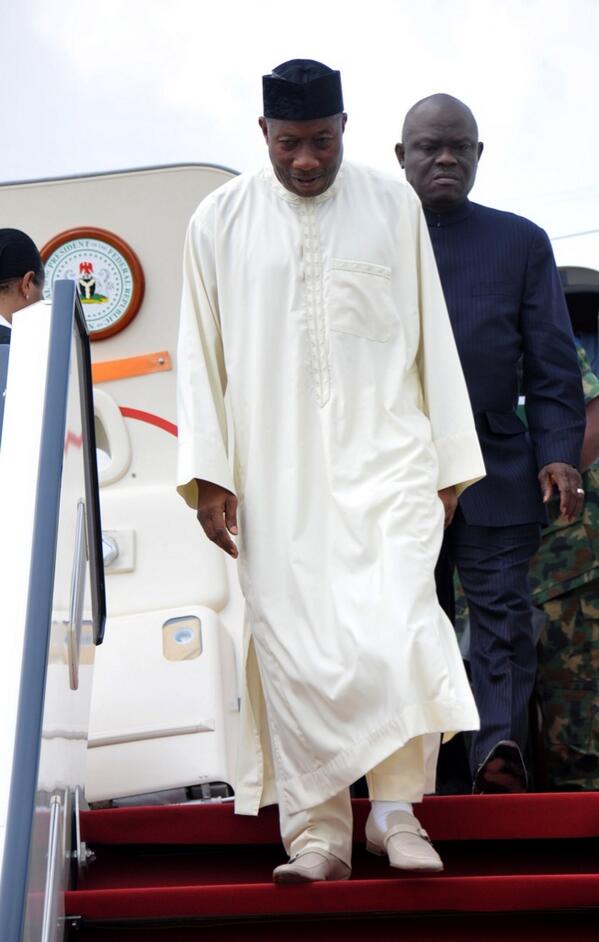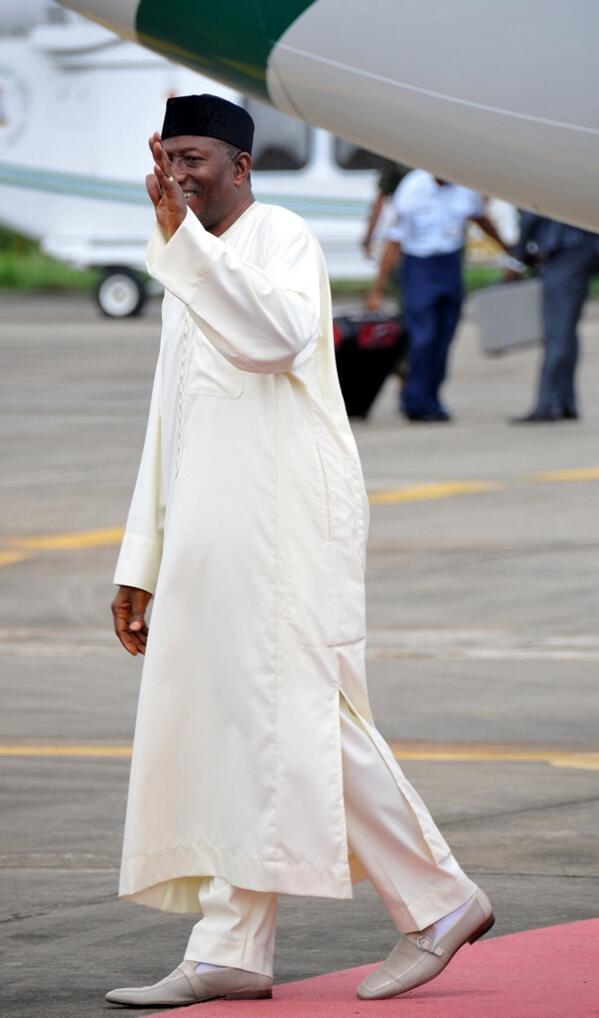 And the Twitter reactions follow:
@abati1990. Best dressed president.

— King julian) (@Gbamlord) July 11, 2014
@abati1990 great pics man,but like usual bad adviser around,wardrobe guys didn't tell on socks for native!Have a lovely weekend my President — Sam (@skaalbgroup) July 11, 2014
@abati1990 why d white socks

— Sergio (@chechebazz) July 11, 2014
@abati1990 whoever is in charge of my President's wardrobe should please not make him wear socks on native again abeg. This is embarrassing

— M. M. Obono (@martobono) July 11, 2014
@martobono @abati1990 i dont think it is wrong to wear socks on native especially if the trousers cover the socks. Socks prevent sweetyfeet

— Thomas Ofem (@Thomofem) July 11, 2014
@Thomofem there's everything wrong bros., we have shoe pads/landings that prevent or suck up sweat from the foot cc: @abati1990

— M. M. Obono (@martobono) July 11, 2014
@edonbetter, however, couldn't be bothered about the 'great socks scandal', his curiousity dwelled mainly on why the First Lady, Dame Patience Jonathan, didn't accompany the President on his Ghana trip.
His question below:
@abati1990 Na only him waka come? — edonbetter (@edonbetter) July 11, 2014
Well, that's a question only the President's media handlers can answer. Over to you, Reno.
Have a great weekend guys; socks or not.