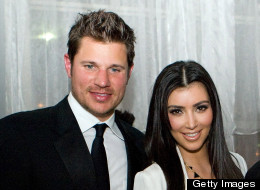 Nick Lachey claims Kim Kardashian used him to get famous in Details magazine. Here, the pair is pictured in 2009.
Nick Lachey wants everyone to know that he's the reason Kim Kardashian is … well, famous.
The 98 Degrees singer opens up about his brief romance with Kardashian in Details magazine's May issue, suggesting that the reality star used him to get famous back in 2006.
Following his high-profile divorce from Jessica Simpson — "Newlyweds" anyone!? — Lachey dated Kardashian for about a week. When asked in Details if the paparazzi shots of one of their first dates in May 2006 mark the start of Kardashian's launch into fame, Lachey says, "That's one way to interpret it."
"Let's just say this: We went to a movie. No one followed us there. Somehow, mysteriously, when we left, there were 30 photographers waiting outside," he continued, laughing.
Lachey, 39, who recently welcomed his first child with wife Vanessa Minnillo, goes on to reveal that he thinks Kanye West's baby mama tipped off the paparazzi about their rendezvous.
"There are certain ways to play this game, and some people play it well," he explains, before agreeing that Kardashian's now-infamous sex tape with Ray J helped her get noticed.
"Yeah," Lachey says. "Well, that was already in the can."
Still although it sounds like Lachey is throwing Kardashian under the bus, the 32-year-old mom-to-be has confessed that her relationship with the boy-bander got her a lot of attention.
"It started when I went out on a date with Nick Lachey. Of course the paparazzi took pictures, because people were curious about who he was with," she writes in the 2010 book, "Kardashian Konfidential."
"The next night I was out with Paris Hilton," she continued. "We were in her car and the paparazzi started taking pictures. Usually they would shout, 'Paris! Paris! Paris!' [But] they started yelling 'Kim! Kim! Kim!' I wanted to hide, and Paris and I just looked at each other and laughed. She said, 'Whatever you do, just smile.' I thought, this is so weird, I don't know what's going on. It was surreal."
And the rest is history.
Read more: HuffPost