In 2009, a new wave of talents hit the Nigeria music scene; most of which were a blend of western and indigenous content.
The urban sounds generated by these artistes ushered the industry into a new era.
Within the same period, the industry witnessed a financial boom as corporate organisations; home and abroad started to see Nigerian music artistes as a valuable and a bankable brand that can be used to communicate to their target market.
One of such artistes who benefited from that financial boom is Chukie Edozien known by his stage name Lynxxx.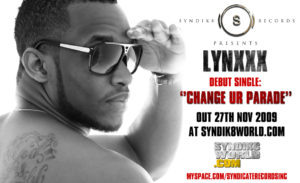 Although the Business, Economics and Marketing graduate from the University of Hull had been doing music under a label he formed with his friend and producer, Ikon in 2004, he hadn't done any major project until December 2009 when he released the game-changing hit, Change Your Parade.
Before you could say jack, Lynxxx was contacted by Pepsi – who went on make him the first Nigerian ambassador for the international brand.
With the financial backing from Pepsi, Lynxxx then went on a first-of-its-kind nationwide campus tour for the promotion of his debut album in 2010, This is Lynxxx which featured the likes of Banky W, Wizkid and more.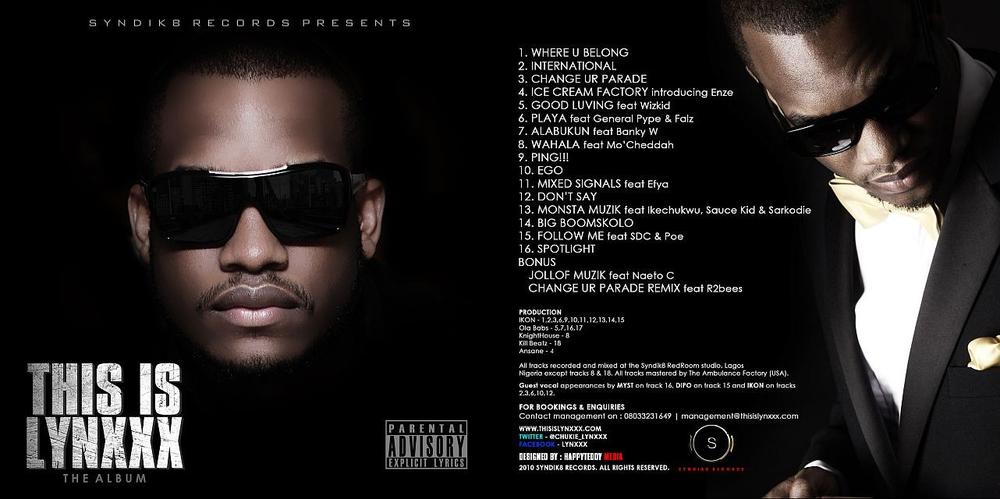 The album rose to create buzz among Nigerian youths due to its fresh and dynamic content – something the artiste coined as 'Jollof Musik' and catch-phrases such as Utunu and Suck Belle Make the Shirt Fine popularized by the leading promotional single – Change Your Parade.
With his business instincts kicking in, Lynxxx saw this as an opportunity and capitalised on this; setting up a clothing line called SyndiK8 Denim.
Asides from the good quality of his music, another major ingredient for Lynxx's rapid rise in the industry could be linked to his muscled physique. This generated a huge female fan base for the rapper.
Following the success of his debut album, Lynxxx started working on his second album. He released the monster hit – Fine Lady featuring Wizkid as the first single in 2012.
He later released other follow up singles. Unfortunately they didn't achieve the same success such as his previous efforts.
The rapper then somewhat took a 3 year break away from music to rediscover himself. He then re-appeared early this year by becoming vocal about his new found faith in God.
This had quite a number of people thinking the rapper had now taken to gospel music but Lynxxx has on several occasions cleared that notion.
In our #YNaijaTwitterInterview series on Friday, August 19, 2016, the CEO of Syndik8 Records however expiated on this new phase of his life which he claims will nave now influence on his music career also.
Here is what Lynxxx – who has a new video out titled Serve You – had to tell us;
#YNaijaTwitterInterview: Hello @Chukie_lynxxx What exactly is the new direction Lynxxx is heading to?
cc @Linkstaz

— Y! Online #WorldCup (@YNaija) August 19, 2016
#YNaijaTwitterInterview: @Chukie_lynxxx Both mostly. Your 'music life' vis a vis your personal life.

— Y! Online #WorldCup (@YNaija) August 19, 2016
Well in a nut shell im born again which simply means im living a God standard life and not a world standard life.. https://t.co/yURIJG8sKY

— Chukie Edozien (@Chukie_lynxxx) August 19, 2016
meaning that God comes first in every decision i make… And i strive to live according to his commandments and rules..

— Chukie Edozien (@Chukie_lynxxx) August 19, 2016
now musically… Nothing really has changed apart from the fact that iv removed the unnecessary suggestiveness, vulgar language…

— Chukie Edozien (@Chukie_lynxxx) August 19, 2016
and sexually suggestive stuff from my music.. So instead of singing about sex for instance, love is a better approach to the content

— Chukie Edozien (@Chukie_lynxxx) August 19, 2016
i sing alot more in my music now as well as rap and iv just decided to focus on content rather that following wats trendy

— Chukie Edozien (@Chukie_lynxxx) August 19, 2016
Music for me is an avenue to tell my story or give a part of me (my experiences) to my fans so thats something i do alot now..

— Chukie Edozien (@Chukie_lynxxx) August 19, 2016
share my reality or experiences thru the music so me and my fans have a stronger connection through journeying with me n my music

— Chukie Edozien (@Chukie_lynxxx) August 19, 2016
#YNaijaTwitterInterview: @Chukie_lynxxx What have you particularly changed about your lifestyle since heading in this new direction?

— Y! Online #WorldCup (@YNaija) August 19, 2016
Everything… Once u make ur self available to be used by God he remolds u into what HE originally destined u to be https://t.co/9B6VSlOTnY

— Chukie Edozien (@Chukie_lynxxx) August 19, 2016
U start paying more attention to what really matters and what doesnt.. https://t.co/9B6VSlOTnY

— Chukie Edozien (@Chukie_lynxxx) August 19, 2016
For instance, u are more conscious about what u let come out ur mouth, how to treat people and how to help others https://t.co/9B6VSlOTnY

— Chukie Edozien (@Chukie_lynxxx) August 19, 2016
You put ur self last and put God 1st and ur neighbor second…A leader is posed to serve..dats how u lead by example https://t.co/9B6VSlOTnY

— Chukie Edozien (@Chukie_lynxxx) August 19, 2016
#YNaijaTwitterInterview: @Chukie_lynxxx few days ago you stated you're not a gospel artiste but an inspirational one… 1/2

— Y! Online #WorldCup (@YNaija) August 19, 2016
#YNaijaTwitterInterview: @Chukie_lynxxx so what should fans expect from an Inspirational Lynxxx – no more 'Jollof music'? 2/2

— Y! Online #WorldCup (@YNaija) August 19, 2016
I repeat… I am not a Gospel artist… I dont think serving God automatically shld mean i shld sing Gospel music https://t.co/7ZhIOmujFO

— Chukie Edozien (@Chukie_lynxxx) August 19, 2016
It should never be forced… It should be something i WANT to do not what pple say i shld do… https://t.co/7ZhIOmujFO

— Chukie Edozien (@Chukie_lynxxx) August 19, 2016
Ders so much creativity dat goes in2 creating music, boxing ur self in isnt a smart idea.. Or allowing pple box u in https://t.co/7ZhIOmujFO

— Chukie Edozien (@Chukie_lynxxx) August 19, 2016
People should expect the unexpected.For the fact that i released a song telling my story doesnt mean thats all i got https://t.co/tdJ8Qu2byt

— Chukie Edozien (@Chukie_lynxxx) August 19, 2016
I currently have 2 albums of which im gearing up to release one in the next month or so and the 2nd one next year https://t.co/tdJ8Qu2byt

— Chukie Edozien (@Chukie_lynxxx) August 19, 2016
Theres all sorts of songs on them, from talking about relationships, to telling stories of experiences iv had etc https://t.co/tdJ8Qu2byt

— Chukie Edozien (@Chukie_lynxxx) August 19, 2016
I BLive, my personal relationship, worship and lifestyle with God is more important that saying "im a gospel artist" https://t.co/tdJ8Qu2byt

— Chukie Edozien (@Chukie_lynxxx) August 19, 2016
4 eg: I can claim Gospel artist but still be d biggest Hypocrite and sinner so what good is that tag in that case? https://t.co/tdJ8Qu2byt

— Chukie Edozien (@Chukie_lynxxx) August 19, 2016
overall i think the process of creating music shouldnt be restricted! Otherwise it hinders my ability to be creative..

— Chukie Edozien (@Chukie_lynxxx) August 19, 2016
#YNaijaTwitterInterview: @Chukie_lynxxx Between 'Fine Lady' and your new single, #ServeYou, you took a brief hiatus. What were you up to?

— Y! Online #WorldCup (@YNaija) August 19, 2016
I was rediscovering my self.. Working and improving my craft and tryn to create something of impact and not Hype! https://t.co/BXzKGSRcJu

— Chukie Edozien (@Chukie_lynxxx) August 19, 2016
#YNaijaTwitterInterview: @Chukie_lynxxx Your new single, #ServeYou talks about your transformation to new found faith in God… 1/2

— Y! Online #WorldCup (@YNaija) August 19, 2016
Not at all… Truth wld always speak volumes and fitting into whats perceived as "Cool" has never been my thing.. https://t.co/jARTwz06el

— Chukie Edozien (@Chukie_lynxxx) August 19, 2016
As a creative, u are incontrol of what u dish to ur audience, as long as u believe in it, go with ur inspiration! https://t.co/jARTwz06el

— Chukie Edozien (@Chukie_lynxxx) August 19, 2016
Finally, the only reason u wld think its risky is if u put Money before the passion and for me thats a no no! https://t.co/jARTwz06el

— Chukie Edozien (@Chukie_lynxxx) August 19, 2016
#YNaijaTwitterInterview: @Chukie_lynxxx You and Ikon formed Syndik8 Records in 2004; how would you describe the journey thus far?

— Y! Online #WorldCup (@YNaija) August 19, 2016
Amazing.. Theres alot that pple dont get to see becuase we dont work for show we work for growth.. https://t.co/pXW9eDvSxq

— Chukie Edozien (@Chukie_lynxxx) August 19, 2016
Over the years we have made some very big moves and learned alot on the way thats shaping the future.. https://t.co/pXW9eDvSxq

— Chukie Edozien (@Chukie_lynxxx) August 19, 2016
In time we wld reveal certain plans and projects to yall https://t.co/pXW9eDvSxq

— Chukie Edozien (@Chukie_lynxxx) August 19, 2016
#YNaijaTwitterInterview: @Chukie_lynxxx In 2010, you became the first Nigerian ambassador for @pepsi… 1/2

— Y! Online #WorldCup (@YNaija) August 19, 2016
#YNaijaTwitterInterview: @Chukie_lynxxx What would you say attracted an international brand to your music at the time? 2/2

— Y! Online #WorldCup (@YNaija) August 19, 2016
Ill say first of all it was the favor of God and secondly, the fact that my sound was fresh, new and unique. https://t.co/lKVOpV6hlc

— Chukie Edozien (@Chukie_lynxxx) August 19, 2016
#YNaijaTwitterInterview: @Chukie_lynxxx So do you reckon your new style of music has (or will have) the same appeal – 'fresh, new & unique'?

— Y! Online #WorldCup (@YNaija) August 19, 2016
This is Gods orchestration.. Ill let things unfold and speak for themselves..soon enuff pple wld get the big pictre https://t.co/dR2lgCxLc3

— Chukie Edozien (@Chukie_lynxxx) August 19, 2016
#YNaijaTwitterInterview: @Chukie_lynxxx In 2012, you were the first Nigerian music artiste to launch a mobile App – the 'Lynxxxtionary' 1/2

— Y! Online #WorldCup (@YNaija) August 19, 2016
#YNaijaTwitterInterview: @Chukie_lynxxx How would you rate its reception? 2/2

— Y! Online #WorldCup (@YNaija) August 19, 2016
It did amazing imo.. I was able to create a personal platform to engage fans and the downloads were satisfactory https://t.co/nSbTjb8s2d

— Chukie Edozien (@Chukie_lynxxx) August 19, 2016
I have something new in the pipelines.. Yall stay tuned https://t.co/xR5LaskG3w

— Chukie Edozien (@Chukie_lynxxx) August 19, 2016
#YNaijaTwitterInterview @Chukie_lynxxx Care to share the download numbers?

— Y! Online #WorldCup (@YNaija) August 19, 2016
Dnt wanna hv to misquote but it was well in the thousands which at the time was perfect https://t.co/sKWM6tC6Wj

— Chukie Edozien (@Chukie_lynxxx) August 19, 2016
#YNaijaTwitterInterview: @Chukie_lynxxx Do you still run SyndiK8 Denim – your clothing line?

— Y! Online #WorldCup (@YNaija) August 19, 2016
Yea we r currently scouting location for a store… We hv a comeback collection in the works https://t.co/iTfikNcLCD

— Chukie Edozien (@Chukie_lynxxx) August 19, 2016
#YNaijaTwitterInterview: @Chukie_lynxxx So, what does the future hold for Lynxxx and Syndik8 records?

— Y! Online #WorldCup (@YNaija) August 19, 2016
Amazing things.. Just like Our Dj just set a World Record, we aim to make more impact and let the work speak 4 us. https://t.co/OYMzmq7u4u

— Chukie Edozien (@Chukie_lynxxx) August 19, 2016
#YNaijaTwitterInterview: @Chukie_lynxxx You & @wizkidayo have a good synergy evidenced by your hit collobarations- #Goodloving #Finelady 1/2

— Y! Online #WorldCup (@YNaija) August 19, 2016
Most definitely… There are plans to create some greatness in the nearest future.. Schedules r just crazy ryt now https://t.co/CGGU0u4OG8

— Chukie Edozien (@Chukie_lynxxx) August 19, 2016
#YNaijaTwitterInterview: @Chukie_lynxxx And on a final note, what's up with your crush on @chidinmaekile ?? pic.twitter.com/JGWbb9ANag

— Y! Online #WorldCup (@YNaija) August 19, 2016
#YNaijaTwitterInterview: @Chukie_lynxxx @chidinmaekile 🙂 pic.twitter.com/1RO2FPmAKn

— Y! Online #WorldCup (@YNaija) August 19, 2016
Lol not a thing… Shouts to her tho, she cool peeps! ??? https://t.co/0ykRnE6svv

— Chukie Edozien (@Chukie_lynxxx) August 19, 2016