This time last year (i.e the day after the AMVCAs) the whole of the fashion internet was confused about what to make of Mercy Aigbe-Gentry's smashing look to the Africa Magic Viewers' Choice Awards. She'd turned out completely beaded in a silver number and looked as "old-Hollywood" as any Nigerian girl had ever dared. It was truly stunning.
But it was obvious she had caused a stir. While the AMVCAs aren't exclusive to any particular group of actors and in fact, there really is only one Nollywood – some actors had dominated the show and its fashion over the years and no one had ever paid much attention to the mainly-Yoruba-movie-making actors (because that's the ridiculous term we could come up with. Bear with us). Mercy Aigbe changed that at the 4th edition of the award show.  It's hard to say she was the best-dressed female but she definitely didn't rank below the top-10 on any list – except the This Day Style Cover for the following week. That was a mess, to be honest.
We all know how that episode ended – Mercy moved didn't make the This Day Cover but then she got on her own cover which she didn't even have to share with anyone not long after.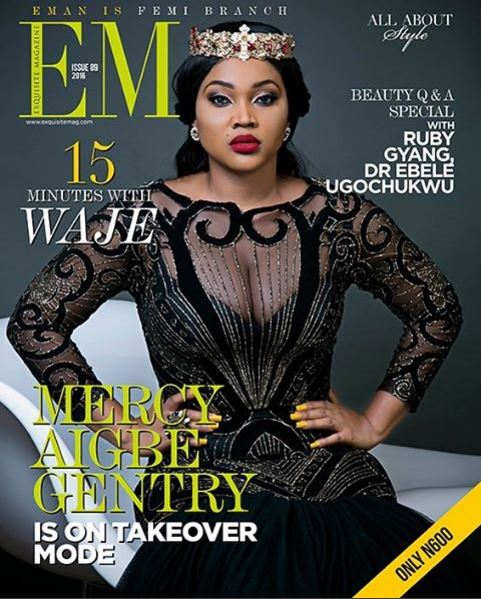 To top that off, this year during the show, she posted this on her Instagram:
She has since deleted that and replaced it with a repost from a fan:
Meanwhile, a different "Yoruba" actress ruled the carpet last night : Toyin Aimakhu who has been in the process of some major image re-brand for a while now. She now goes by "Toyin Abraham".
Last night she turned out in this ball gown dusty pink number by 2207 by Tbally:
Toyin looked great by any standards but we are yet to see if there will be a repeat of the "Mercy Aigbe/Yoruba Nollywood snub" by the Nigerian Style community.
Let's hope not.
Creative mind. Enthusiast. Learner. Multipotentialite. And here, an assistant editor.