Busted!
It seems Christina Aguilera's ample bosom is so alluring that even Secretary of State Hillary Clinton couldn't help but take a quick peep: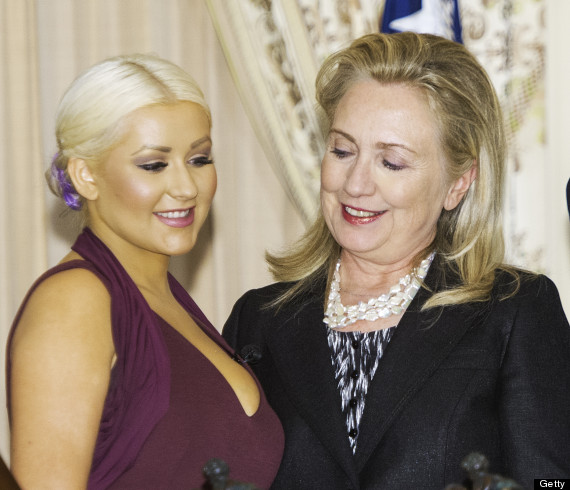 This titillating photograph was snapped on Wednesday at the U.S. Department of State in Washington, D.C., where Aguilera, a UN World Food Programme Ambassador, was being honored for her philanthropic work.
At a ceremony hosted by the former first lady, Aguilera, along with business tycoon David Novak, were awarded this year's George McGovern Leadership Award in recognition of their help in fighting global hunger.
Together, Aguilera and Novak, are said to "have raised $115 million for the WFP and others, providing 460 million meals to hungry children around the globe."
"As a woman and mother, I'm honored to receive this award and be part of the global effort to solve hunger," Aguilera said, according to the WFP website. "For just 25 cents a day, we can feed a child in school and be part of the solution. In my travels with the World Food Programme, I've seen firsthand how that meal changes the life of a child. It's the stories I've heard and the people I've met through World Food Programme that I carry with me every day."
"The Voice" judge and the secretary of state were said to have been getting along "famously" at the event, so much so that the pair have been cheekily dubbed "bosom buddies" by the Daily Mail.
Don't worry, Hillz. We probably would've looked, too.