Davido must be holding his head high and laughing at critics who may have felt the star was simply blabbing when he announced a prospective collaboration with American singer, Trey Songz.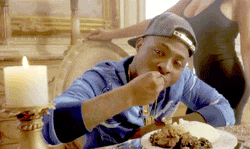 Although Trey had earlier revealed that he's working with Davido on a project, he however, confirmed the collaboration on Saturday night, when he brought out the O.B.O to perform with him at the Rhythm Unplugged event.
In other news, check out the diamond encrusted Rolex Davido had on him yesterday.
Have a closer look… O.B.O Baddest.