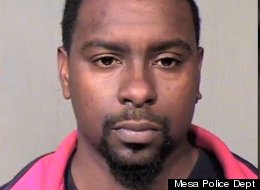 Javier Dwayne Rouse, 33, of Mesa, Arizona, is accused of punching a child at a daycare center.
An Arizona man has been arrested after allegedly punching his girlfriend's six-year-old son in the chest at a daycare center in Mesa, Arizona.
Javier Dwayne Rouse, 33, of Mesa, Arizona, allegedly hit the boy after the child called another kid "an unacceptable name," according to court documents obtained by AzCentral.com.
According to the police report, surveillance video of the incident shows the child flying "approximately four feet in the air" before landing directly on his buttocks and sliding up the wall, Geobeats reported.
Rouse was arrested last week on suspicion of aggravated assault on a vulnerable child.
Police said he admitted hitting the child, but "didn't think he punched the child hard like an adult would be hit," according to Hot1047.com.