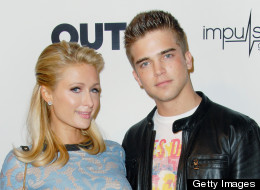 Paris Hilton and River Viiperi might be getting married someday soon.
Paris Hilton is ready to settle down.
The 32-year-old hotel heiress said that she "definitely" wants to marry her much-younger boyfriend River Viiperi, 21, during an appearance on "The Wendy Williams Show" May 2. Hilton confessed that she has "grown up" and is "staying out of trouble" after making headlines for her infamous party girl behavior. And she admitted that starting a family is at the top of her list.
"I think that's every woman's dream. I think that's the meaning of life to have children and have a family one day," Hilton told Williams, adding, "I am so in love. I feel so lucky to have met him. He's one of the kindest, most loyal men I've ever met in my entire life, and he treats me like a princess."
Not to mention Viiperi is easy on the eyes.
"He's the most beautiful man I've ever seen in my life," Hilton gushed, explaining that he may be younger than her, but she's "21 forever."
And although Hilton has recently caught up with some of her former pals, including Lindsay Lohan, Nicole Richie and Kim Kardashian, the socialite admitted that she's much more focused on her career these days.
"I just opened my 44th store in Colombia last week and we're expanding all around the world," Hilton, who is also working on her 16th fragrance, said. "I'm getting intothe hotel business and following in my family's footsteps. I love it."
Read more: Huffington Post