Embattled U.S. Attorney General Jeff Sessions resigned at the "request" of President Donald Trump on Wednesday.
Sessions's chief of staff Matthew Whitaker will serve as acting attorney general, Trump announced.
We are pleased to announce that Matthew G. Whitaker, Chief of Staff to Attorney General Jeff Sessions at the Department of Justice, will become our new Acting Attorney General of the United States. He will serve our Country well….

— Donald J. Trump (@realDonaldTrump) November 7, 2018
Whitaker also will assume oversight of the ongoing investigation by special counsel Robert Mueller into Russian interference in the 2016 presidential election, and possible collusion by Trump's campaign in that meddling.
….We thank Attorney General Jeff Sessions for his service, and wish him well! A permanent replacement will be nominated at a later date.

— Donald J. Trump (@realDonaldTrump) November 7, 2018
Sessions, 71, lasted about two years in the job. But in that brief period, the former Alabama senator managed to usher in a new era at the Justice Department.
"Most importantly, in my time as Attorney General, we have restored and upheld the rule of law — a glorious tradition that each of us has a responsibility to safeguard," Sessions wrote in his resignation letter. "We have operated with integrity and have lawfully and aggressively advanced the policy agenda of this administration."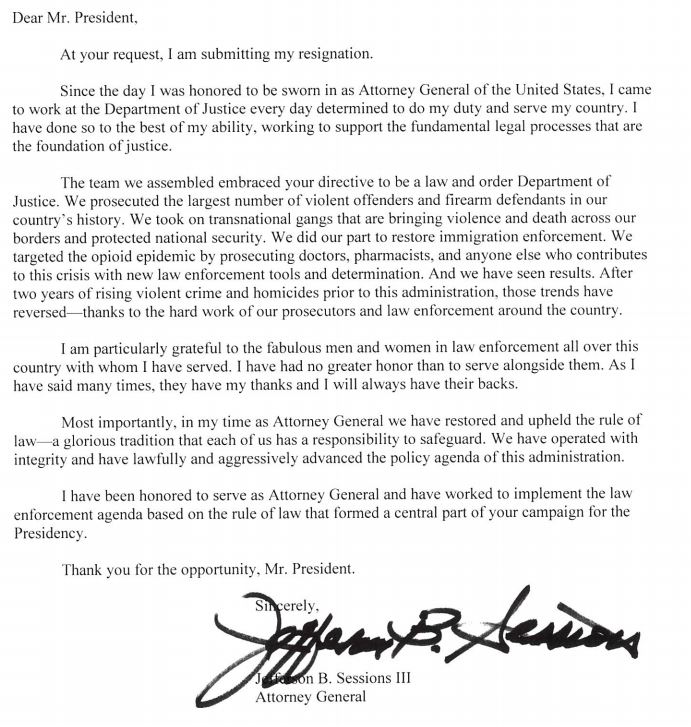 Omoleye Omoruyi… an apprentice web/game developer, novelist, sensitive to happenings in the world. Meet him @Lord_rickie on Twitter/Instagram