The documentary titled Lagos to London: Britain's New Super-Rich was aired on Tuesday night.
The show is produced by Channel 4, a UK based TV station.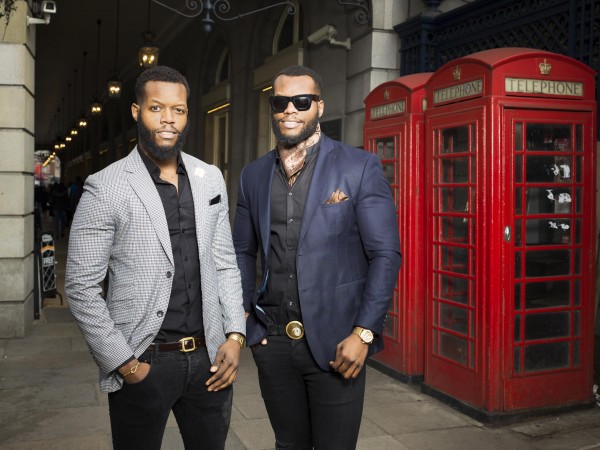 The show which featured DJ Cuppy and her sister, Temi Otedola, Ozee and OC Mbadiwe alongside luxury entrepreneur, Alexander Amosu showcased the lives of Nigeria's super rich living the lavish lifestyle in Britain.
The show was met with mixed reviews as Nigerians based in the UK who got to watch it, took to their timelines to air their views.
And it wasn't all pretty.
Here are top 20 Twitter comments about the documentary which also had Toke Makinwa featured.
#LagosToLondon Richkids spending family wealth on European labels. vs Selfmade man making Europeans spend millions for his own label. Learn

— Marianne (@MissMMiles) June 7, 2016
RT @XCX_17 RT how you be looking at your parents after watching the #LagosToLondon show pic.twitter.com/jadVt8jwxF

— Sir Slay (@TheBlackHermit) June 7, 2016
The #LagosToLondon thing was nothing but entertainment for me. I can't miss a life I never lived fully.

— JJ. Omojuwa (@Omojuwa) June 7, 2016
Finished watching #LagosToLondon and I remember my bank account balance is…. pic.twitter.com/8zKHiLEFtP

— Wale Gates 🇳🇬🇬🇧 (@walegates) June 7, 2016
Forgot I was cooking chicken all because I was watching people who have maids cook for them 🙂🙂🙂 #LagosToLondon pic.twitter.com/eDmL4BDksw

— Simi (@SimiAllsmiles) June 7, 2016
Gotta rate this Alexander youth, look at where he came from please, ppl grind hard uno don't matter where you come from #LagosToLondon

— Kick Rocks™ (@SamoCalm) June 7, 2016
I called my mum to watch and she said they're all fraudstars & God will deal with them 😭😭😭😭😭😭😭😭😭 #LagosToLondon

— #LoveFromJand 🇳🇬 (@jesuisjoy_xo) June 7, 2016
People will watch #LagosToLondon then go and look at the economic situation in Nigeria and just be like… pic.twitter.com/Dzqh0botnC

— Ronke Lawal (@ronkelawal) June 7, 2016
I'm already like #LagosToLondon pic.twitter.com/r5axHDxGYA

— Sade (@Inmysundaybest) June 7, 2016
Hello daddy, what were you doing when your mates were sending their children to see Valentino o??? #LagostoLondon

— FK. (@fkabudu) June 7, 2016
Why am I watching this?
It's only 5 minutes in and already I'm like…#LagosToLondon pic.twitter.com/RKXG2uxQTJ

— Ronke Lawal (@ronkelawal) June 7, 2016
God please remove the spirit of jealousy from my heart #LagosToLondon 😫😫

— Zizibo #Gboriwole (@Zizibo_Singer) June 7, 2016
https://twitter.com/dontjealousme/status/740288818125869056
#LagosToLondon is this meant to inspire or annoy us?
So far I'm a bit confused

— Yinka | MrKookies™ (@MrKookies) June 7, 2016
£1,000x15xN500 = N7.5M ..the headphones must cure ear infections oooooooo !!!!! https://t.co/2J0PQCMRQG

— O.G Oguntoyinbo (@GTOguntoyinbo) June 7, 2016
Can we have a quick conversion into tomatoes please someone? https://t.co/mbyQmpxg9s

— Clementine Wallop (@CWallop) June 7, 2016
If I lived on a council estate & anyone ever dared come to my yard with a camera crew but no cheque!#LagosToLondon pic.twitter.com/3zW8YiRiYA

— Ronke Lawal (@ronkelawal) June 7, 2016
Cuppy and Temi want to break out of the family shadow and make a name for themselves. BUT THE SHADOW IS STRONG #LagosToLondon

— tyro (@DoubleEph) June 7, 2016
Nigerians after watching #LagosToLondon 🙄😢 pic.twitter.com/MmRfY7ryoA

— L U M I (@lumi07) June 8, 2016
Laffffn >"@walegates: "£2000 to dryclean the suit"…. #LagosToLondon �������� Jesus! Come soon, turn up….. . pic.twitter.com/AnMctHd3Wc"

— Abiodun Fred (@abiodunfred) June 8, 2016