by Anike Jacobs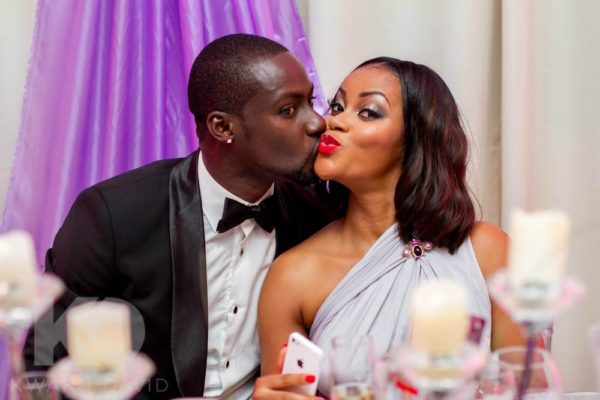 Ghollywood actor Chris Attoh who got married to his Nigerian sweetheart Damilola Adegbite a few weeks ago, is extremely excited and proud to be a husband.
In an interview with Nation Newspaper, he told their love story.
See excerpts below:
On his presence in Nigeria: Whatever it is, Nigeria is the LA. You can live in New York, you can live where you want but if you are on film, you will probably always fly to LA or Hollywood to do the work. Nigeria is the LA in these parts. I say that because if anything is going to happen, the auditions are here in Nigeria. Most of my work on the international front has been founded here on Nigerian soil. And of course, I especially have been blessed with much from Nigeria including a beautiful Nigerian wife.
On meeting Damilola on Tinsel: Tinsel has been a huge blessing in my career. It was a training ground for a lot of the things I'm able to do today and I'll always be grateful to MNet for that. On a personal level, I'm also very grateful because that is also where I met my beautiful wife and it has been wonderful since I got married to her. It is like we are acting every day.
On the attraction: The attraction to my wife when I first met her is, her birthday is on the 18th of May while mine is on the 17th. That is the first thing that caught my attention. I said this must be my sister. If I'm a day before her, then our thoughts are probably the same and our desires are the same. We did find out that our desires are the same. She is an amazing person. When Dami walks into a room, she steals the attention so it is very hard not to notice her. Obviously I was meeting new people, new faces but she definitely made an impression.
On reactions to him getting married to Damilola: My Ghanaian sisters, my Nigerian sisters, my Canadian sisters, my American sisters were all angry. Don't mind me. That is all I'll say. My reaction is that you enjoy life until you find that one person who you decide you will not let go, you want to share the rest of your life with that person. Unfortunately, it has to be one person. It beats being whether the person is Ghanaian or Nigerian or Italian. I was lucky to find myself a hot, beautiful Nigerian woman. Me, I need some fire in my life, so there you go.