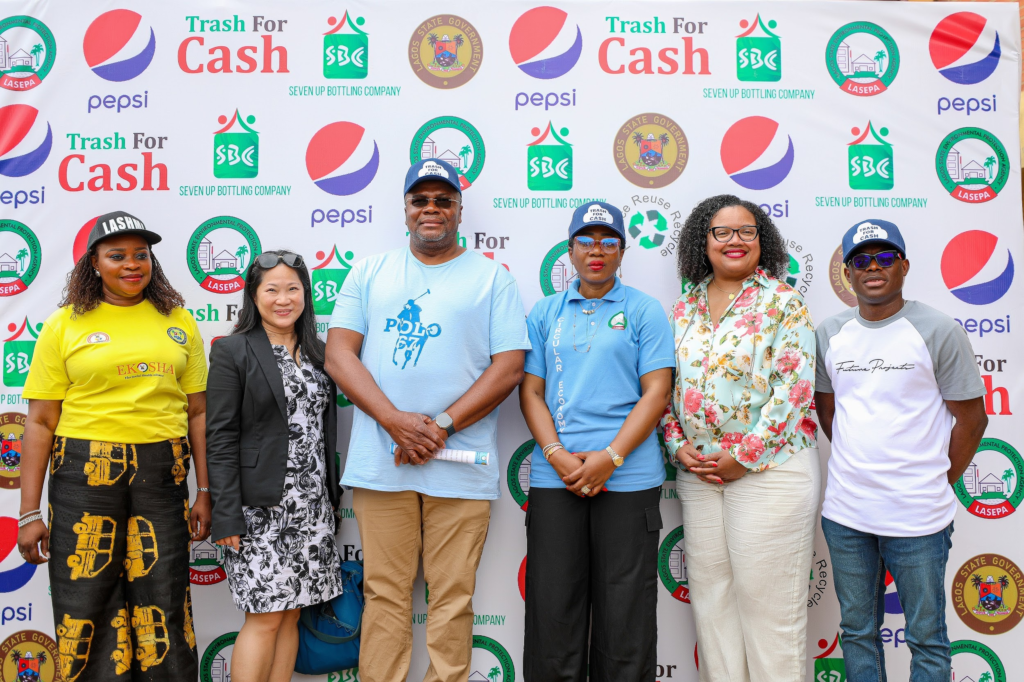 Nigeria's foremost beverage company, Seven Up Bottling Company, bottlers of Nigerian leading Cola brand, Pepsi has partnered with the Lagos State Environmental Protection Agency (LASEPA) to drive the Trash for Cash Initiative. This partnership was established at an event which took place at Jubilee Model Grammar School, Aguda. Lagos and in attendance had some state dignitaries such as Dr. Gaji Tajudeen Omobolaji (Lagos State Permanent Secretary of Environment Services) Tunde Awoyelu (Education Secretary, Surulere), Kenise Hill (Deputy Political and Economic Chief at the US Consulate), Dr. Femi Adegoke (President of Lagos state Recyclable Materials Association) amongst others
The event was aimed as further deepening the mandate of the LASEPA initiative to continue to inspire and encourage Lagosians to rethink how plastic waste should be disposed. The Trash for Cash Program has been designed to help encourage converting recyclable materials and making them reusable for every day purpose while also leveraging this to sanitize the environment, reduce global warming and boost employment and wealth creation.
This year, coming in as a partner, Seven Up Bottling Company will help to further boost the efforts of the agency to reach other areas within the state and help record more milestones for the partners.
The Managing Director, Ziad Maalouf in his address to stakeholders who were present at the event, highlighted that Seven Up Bottling company will remain committed to ensuring the best for Nigeria and a key part of this commitment is to see that we are able to see Nigerians live in a safer and cleaner environment. As a leading beverage business in the country, we would not only continue to inspire Nigerians but would partner with stakeholders towards achieving goal.
"As a leading provider of Nigeria's foremost beverage, there can not be a more urgent time to have such an initiative that educates Lagosians on proper disposal methods. Beyond creating wealth, proper disposal of these materials helps in the prevention of an unhealthy environment and it is good that they can be recycled into chairs, tables, footwear, and other plastic reusables. Once again, I am happy that the Lagos state government set this initiative in motion. I truly believe it will fulfill its course." he said.
The General manager of LASEPA, Dr. Dolapo Fasawe while addressing stakeholders highlighted some of the huge milestones recorded with this initiative across the state. Part of the objectives is to impact the lives of Lagosians by making them more environmentally aware and cautious while also empowering them.
"A major reason for this initiative is to aid the sanitization of Lagos and create employment for many. With Trash For Cash, single-use plastics will seize to end up in the dumpsite. This is because we educate the public on the dangers associated with the wrong disposal of these plastics. We encourage them to pick these plastics and sell them to us. We understand that recycling is a great way to move our economy forward by creating jobs, increasing businesses and investment opportunities, and social impact. Trash For Cash also helps in protecting the environment by keeping the people aware of the harm these materials can cause if not properly disposed of".
Further inspiring stakeholders, the General Manager Marketing, SBC, Mr Segun Ogunleye shared the power of brands and their pivotal role in steering environmental change.
"At SBC, we believe in the transformative power of corporate social responsibility, and we stand committed to making a positive impact on the communities we serve.
Together, we have the opportunity to turn waste into wealth to create a sustainable future and preserve the beauty of our environment which is what we have come here to show the people of Surulere." he said
.
Both LASEPA and SBC have committed to seeing the vision come alive for Lagosians across every facet of the state.
The event garnered widespread attention and participation, with SBC executives and government officials in attendance to express their commitment to promoting environmental awareness and sustainable practices within communities across Lagos State.