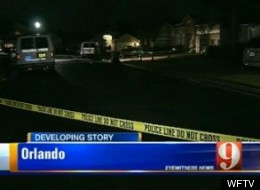 A Florida teen fatally shot his 12-year-old brother because he mistook the boy for a home invader, according to police in Orlando.
The older boy, 16, was home alone on Friday when the younger sibling arrived at the house. Concerned that someone had broken in, the older boy picked up a gun, ABC News reports.
"He heard some noises and he called out for his brother and he didn't answer and so then his brother startled him," said Orlando Police Department Detective Mike Moreschi, according to WFTV.
Realizing his mistake, the older brother immediately called authorities.
"He's devastated, obviously," Moreschi added, according to the New York Daily News. "His parents are devastated by what happened and it's just a really bad situation for the family."
Police determined that the shooting was an accident. Neither brother has been named.
It is unclear where the teen got the gun and the family is cooperating fully, according to the Associated Press.

Read more: Huffington Post