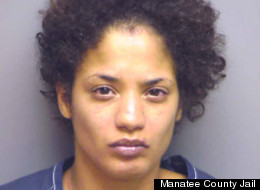 The cops came not a moment too soon.
Racquel Gonzalez, 24, has been arrested for allegedly assaulting her boyfriend, 30-year-old Esric Davis, when he had an orgasm and she did not, according to a police report obtained by the Smoking Gun.
The Manatee County, Fla. couple were having sex on Monday afternoon, Davis told deputies, and after he climaxed, Gonzalez got angry and started scratching and hitting him.
The police report states that Davis had scratches near his eye and nose. Davis also told investigators that Gonzalez has issues from her past and "goes off" on him frequently.
Gonzalez, who the report states was uncooperative and belligerent during her arrest, was charged with felony domestic battery.
This isn't the first time sex has led to violence in the great state of Florida. In September, a woman was arrested near Port Charlotte after pulling a gun on a man while they were having sex in a moving car.
Earlier that same month, a couple in Zephyrhills wound up in the slammer after their menage a trois gone wrong ended in gunfire, police Tasing, and a SWAT team surrounding the house.