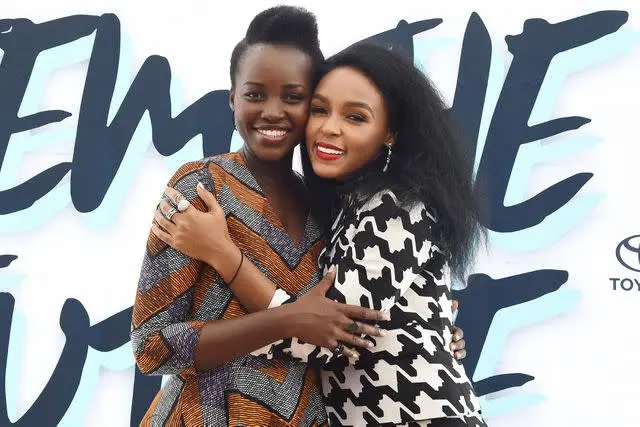 Kenyan actress Lupita Nyong'o has finally addressed the rumors surrounding her alleged romantic relationship with American singer Janelle Monae, shedding light on their connection. In an exclusive interview with Rolling Stone magazine, Lupita reminisced about their initial encounter and shared intimate details about their first embrace, leaving fans intrigued.
Their friendship dates back to the fateful meeting at the Met Gala in 2014, where Lupita had just triumphed with an Oscar win for her outstanding performance in '12 Years a Slave.' Reflecting on that memorable night, Nyong'o revealed, "This world is still extremely new to me and unbelievable. Janelle came up to me and just gave me the realest hug. I think we may have swayed to the music. She was just like, 'I'm so proud of you, and just thank you for being you.'"
The accomplished actress went on to express her understanding of why people speculated about a romantic connection between her and Janelle. Lupita highlighted Janelle's captivating magnetism, stating, "She has magnetism that they were obviously picking up on. She is that enigmatic. I was not surprised. And I don't mind being associated with her in any capacity."
It is worth noting that Janelle Monae has been open about her sexuality and gender identity. In 2018, she identified as pansexual, and more recently, in 2022, she embraced a nonbinary identity during an appearance on 'Red Table Talk.' Janelle's perspective on gender and love is expansive, transcending traditional labels. She shared, "I just don't see myself as a woman, solely… I feel like God is so much bigger than the 'he' or the 'she.' If I am from God, I am everything."
During the same 'Red Table Talk' episode, Janelle delved into her pansexuality, emphasizing that she is attracted to individuals based on their energy rather than their sexual or gender identity. "I don't see how you identify," she explained. "And I feel like that opens you up to fall in love with whoever, with any beautiful spirit."
While the speculation surrounding Lupita and Janelle's relationship has been put to rest, Lupita Nyong'o recently introduced her boyfriend, Selema Masekela, to the world. She shared an adorable video on her social media platforms, featuring the couple changing into various outfits while snapping along to the song 'The King's Affirmation.' Lupita expressed her happiness, captioning the video with, "We just click!" Selema also expressed his love for the acclaimed actress, referring to her as his 'whole and actual love.'
In addition to his relationship with Lupita, Selema Masekela, 51, boasts a diverse range of talents. Alongside his sports commentary and TV shows, he has pursued acting, appearing in notable productions such as 'Point Break' (2015), 'Uncle Drew' (2018), and an episode of 'Sneakerheads' in 2020.
The honest and heartfelt revelations from Lupita Nyong'o regarding her friendship with Janelle Monae have provided fans with a deeper understanding of their connection. While Lupita has found love in her life, her enduring bond with Janelle remains a testament to the power of friendship and shared experiences. As they continue to inspire audiences with their respective talents, Lupita and Janelle prove that genuine connections can thrive in the entertainment industry.