by Isi Esene
It appears Kanye West is still not confident with Kim Kardashian's sense of style as reports say he has certified her unfit to attend the Paris Fashion Week. At the wake of their love affair, West tried to replace almost her entire wardrobe expressing his dissatisfaction with her collection.
The superstar rapper who struggles to give the impression of a quintessential style icon had himself often scored a fashion fail in some of his outings prompting experts to wonder why he's bent on doing a Kim makeover.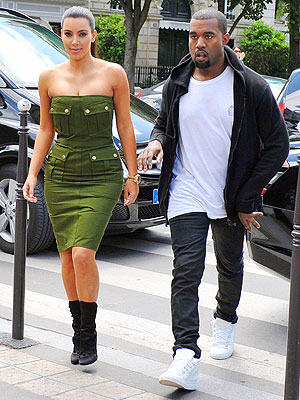 The New York Daily News reports "exclusively" that West has been RSVP'ing for this week's runway shows without a plus-one… and not telling Kim about it. A source tells the Daily News, "He didn't think it was good for his reputation… [but] he didn't want to hurt her feelings."
The daily newspaper says "he's uncomfortable bringing her" and "wants to be taken seriously" by the glitterati in Paris. So no Fashion Week for Kim it appears.
The two have been inseparable since the start, this might just spell the beginning of the end for the power couple… if it turns out to be true.