Every day on the Nigerian internet, there are people who keep our eyes glued to our phone screens as we read their rants, opinions, perspectives on political and social matters, etc. Sometimes, they are just downright ridiculous. We make it our job to take down the names of these noisemakers.
Here's our list from today:
1. Ayo Fayose
The governor of Ekiti, Ayo Fayose, in something that looks like an official start of his 2019 presidential campaign, took to Twitter to post a poster, with the words, "Solution 2019"
— Peter Ayodele Fayose (@GovAyoFayose) September 13, 2017
2. Oby Ezekwesili
Today, the former Minister of Education, in reaction to the military operation in the Southeast, "explained" to President Muhammadu Buhari that as a leader he is supposed to be bonding with the good, bad and the ugly, not only those who worship him.
3. Reno Omokri
The regular commentator, has, as usual, attacked President Buhari for attending the "commissioning of a poultry but not strong enough to visit Benue". He added that the President values animals better than humans.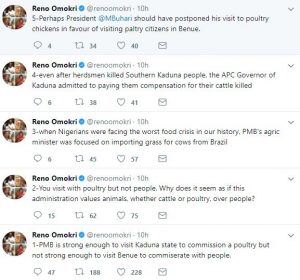 4. Atiku Abubakar
Considering he was a vice president, Nigerians on Twitter have given Atiku no breathing space since when it was known that he intends to contest in 2019. Today, again, he asks a user to give evidence of corruption allegations against him.
5. Mr Eazi
Nigerian singer, Mr Eazi, shunning recent social media attacks, thanks his fans from outside Nigeria for streaming his songs.
https://twitter.com/mreazi/status/908079705806569472
Omoleye Omoruyi… an apprentice web/game developer, novelist, sensitive to happenings in the world. Meet him @Lord_rickie on Twitter/Instagram