Once you've survived the wedding planning stress, the last thing you want is more worry over spending too much on your honeymoon.
Once you've survived the wedding planning stress, the last thing you want is more worry over spending too much on your honeymoon. We've compiled 20 tips on how to get the most for your travel dollars and book your dream honeymoon for the best possible price.
1. Price out airfare first. Before you settle on ahoneymoon destination, remember that a major factor in comparing destinations is the airfare. For example, say you want to go to an island in the Caribbean. Some isles, such as Jamaica and Puerto Rico, get plenty of nonstop service from the United States, while others, like Anguilla and Nevis, require a connection, often on a smaller local airline. Decide if you're willing to pay for another travel leg, and work that expense into your spending plan.
2. Use common sense. While your dream honeymoon destination may have been beyond your budget in the past, the global recession has hit some spots harder than others. So check if your favored locale has suddenly come into reach.
3. Beware of holidays and other special events. Nothing jacks up prices more than a holiday or major event. Expect to pay top rates during the winter season around Christmas, Hanukkah and New Year's Eve. If you're planning a spring honeymoon, be sure to check when Easter and spring break fall in your particular destination. Look for local seasonality as well; wine-country rates rise during the grape-harvest season, while New England asks a premium during autumn leaf-peeping time.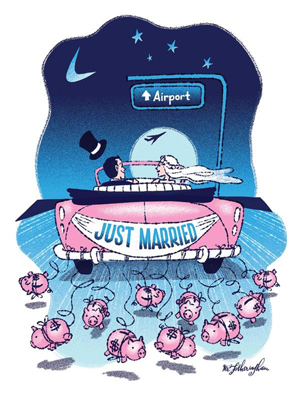 Illustration by: Edwin Fotheringham
4. Consider shoulder season.
 Working with a tight budget and feeling priced out of your choice spot? Look into similar locales that are in shoulder season (in between high and low seasons). For example, peak season in Bermuda starts later than in the Caribbean because it's located farther north. Have your heart set on a locale but are more flexible with timing? Hawaii has better deals in spring and fall, when family travel is limited due to school schedules.
5. Be prepared for low season. While some great low-season bargains are out there, you need to know the risks. Head to the Caribbean during hurricane season or to the Pacific during the monsoon months, and you'll get amazing deals — but you also have a higher chance of encountering storms. If you want to take your chances, ask about guarantees or travel insurance.
6. Look into travel registries. Couples who already have a fully stocked household may find that registering for their trip is a great way to cancel out some of the costs of activities, meals and more. Choose from many programs, including those offered through a resort (Marriott, Starwood, Sandals), a destination (Aruba), a tour operator (Backroads, Mountain Travel Sobek), a cruise line (Carnival) or an online booking agency (HoneyLuna).
7. Price out packages. As a rule of thumb, travel packages that combine flights, hotel stays and extras like excursions and airport transfers are a great way to get more for less — if you want everything they offer. Don't assume you've found a good deal before you price out the pieces a la carte. The same is true for all-inclusives and cruises: travelers who don't drink and just want to sun all day may find that an all-inclusive resort is more expensive than a pay-as-you-go one.
8. Factor in all the costs. The biggest mistake you can make is assuming that airfare plus hotel price equals the total cost. You have to get yourselves to and from both airports, pay taxes along the way, and account for food, drinks, tips, transportation and activities (unless those are included in your package). You'll probably also want a souvenir, a spa treatment and maybe a nice bottle of wine one night, so be sure to do all the math before determining which trip is right for you.
9. Use flight aggregators. Websites like Kayak.com and Orbitz.com scan the Web for deals, then send you directly to the airline or booking engine. They're a good place to start your search.
10. Be flexible with timing. Check out alternative travel dates surrounding your wedding day, both on the front and the back end. if you marry on a Saturday, you may find that the fares are much higher on Sunday than the following Tuesday.
11. Sign up for fare alerts. Websites like AirfareWatchdog.com send you emails with low rates on flights departing from your local airport; the low-fare alert on Travelocity.com will notify you if prices for your route drop.
12. Consider low-cost carriers. Smaller airlines like JetBlue, Southwest and Virgin America fly to many of the same destinations as the bigger carriers. What they lack in timetable (they may not fly as frequently or offer service every day), they make up for with fares and flexibility. (For example, Southwest lets each passenger check two bags for free.)
13. Book early. When you're going to find the lowest rate is a hotly contested subject, and unfortunately, there's no such thing as a crystal ball for booking times. But there is one rule to live by: if you're going to a popular honeymoon destination in peak season, don't wait for fares to drop — they're more likely to go up as inventory sells out. You also don't want to miss out on the chance to get the schedule you want.
14. Don't expect an upgrade. Years ago, airlines often upgraded newlyweds to first-class as an unofficial perk. Sadly, that's no longer the case; today those privileges go to the most active frequent fliers. That being said, it never hurts to ask at check-in!
15. Use your miles. Once you pick your locale and know who flies there, sign up for a credit card that accumulates points. if you accrue enough for a free pair of tickets, you have more to spend on the ground. If you don't accrue enough for free flights, consider trading the points in for an upgrade to business class — the perfect type of splurge for this ultimate vacay.
16. Do thorough research for a hotel room. Check out the rates on Hotels.com andPriceline.com to see the general range of room rates. Then go one step further by pricing out rooms on the hotels' own sites. Some brands offer best-price guarantees you won't want to miss. Many hotels also offer free upgrades for couples marrying on their property.
17. Call the hotel directly. When you call the front desk — rather than an 800-number sales center — you're more likely to get a person who can offer discounts. Before you get off the phone, have him mark that you're honeymooners in your reservation; some hotels offer perks like a welcome bottle of champagne on an as-available basis, and you want to get your names down first.
18. Pick your room category carefully. Compare the prices for rooms with ocean views and amenities like hot tubs and balconies. This isn't any old trip, and you'll likely be willing to pay extra for a memorable experience.
19. Beware of packages. Hotels often offer honeymoon, elopement and romance packages, but they're not always a value. Look at the components and price them out versus a la carte costs or you may end up paying extra for fruit baskets and turndown services you could live without.
20. Ask, and you may receive. When you check in, identify yourselves as a wedding or honeymoon couple and ask for an upgrade if you're not given one automatically. If the hotel has suites available, you're more likely to get one than other travelers — and why shouldn't you? You've earned it!
————————-
Op-ed pieces and contributions are the opinions of the writers only and do not represent the opinions of Y!/YNaija.