Eric Trump, President Trump's second son appeared on 'Hannity' with Fox news show host Sean Hannity Tuesday night and slammed the Republicans.
Trump 2.0 seemed to be really hurt by the Republicans inability to vote on Obamacare which led to the death of the "repeal and replace Obamacare", a core campaign promise of his father
"I want somebody to start fighting for him, he's the best leader in the world. How much weight does he have to carry by himself? My father has the voice of this country. The people of this country love him. Why wouldn't [Republicans] get in line?"
.@seanhannity: How is it possible for @POTUS to govern on principles Republicans say they support, when even Repubs. don't have his back? pic.twitter.com/Spa9rgb8eQ

— Fox News (@FoxNews) August 2, 2017
Well, following recent developments in the Senate, we ask ourselves the very same question. Are the Republicans still standing with Trump in their hearts or just speaking party rhetoric at this point? How will Trump continue to govern if his party doesn't support his values?
Let's not forget that he's also the best leader in the world and the people of the country love him, but wait, didn't his approval rating (voted by Americans of course) last month show Trump has had the lowest approval ratings a U.S. President has had within 6 months in 70 years?
In a Washington Post/ABC News poll, only 36% of Americans approve of Trump's behavior as president, with 70% saying he had been acting 'unpresidential' since he moved into the White House.  President Barack Obama had a 59 percent approval rating six months into his first term.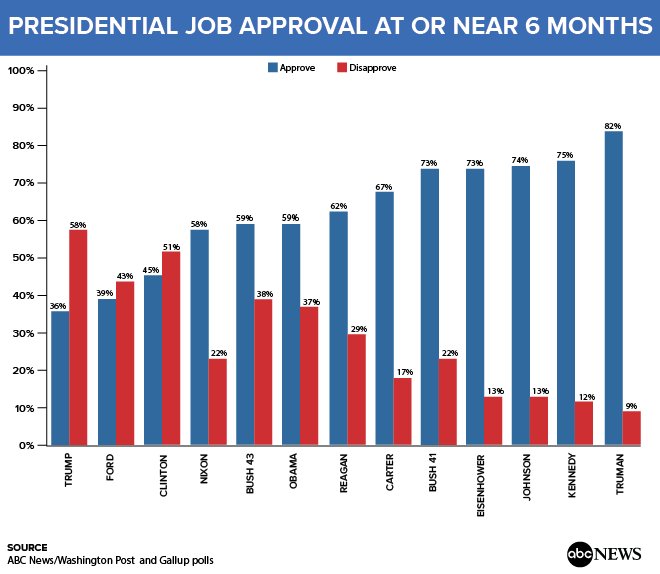 President Trump himself last month expressed his disappointment at his party members, he tweeted, that it was "very sad" that Republicans "do very little to protect their president".