by Yemi Olowu
Celebrity weddings can be fun. Get over the matter of Kim – heck, even Britney Spears, who got hitched in Vegas, ended it 55 hours after!
2011 has been a huge year for high profile celeb wedding – with first timers and old players – from the British Royals to the Hollywood darlings and also one of fashion's most valuable – Kate the Great!
We have our fingers crossed, and we are counting!
Kate Moss and Jamie Hince

Kate Moss and rock star Jamie Hince got hitched at St. Peter's church in Little Faringdon on July 1. The bride wore a sheer gown  which was designed for her by her close friend, John Galianno. She matched her bridal wear with custom made Manolo Blahnik. Her groom chose a light blue YSL suit, designed by Stefano Pilati.
The bridal train included 14 bridesmaids and her former casting agent Jess Hallet as Maid-of-honor.
The bride arrived with her eight-year-old daughter Leila Grace in a silver Rolls Royce with her bridal train in tow, who occupied six more Rolls Royces.  The guests included US Vogue editor Anna Wintour, fellow super model Naomi Campbell, Kelly Orsbourne, Vivienne Westwood, Stella McCartney and Jude Law.
photo: fabsugar.co.uk
Prince William and Kate Middleton

This ceremony will not be forgotten for a very long time. It has now become a model wedding for brides around the world (and was replicated at the launch of Nigeria's Weddings by MAI). You would be forgiven to say the universe stopped to watch them tie the knot, with TV stations, radio and new media joining in as William made Kate his bride.
Kate walked down the aisle in a Sarah Burton for Alexander McQueen gown, with her maid-of honor, sister Pippa Middleton, making her own world debut.
After the wedding ceremony, which was attended by 1900 guest at the Westminster Abby, a lucky 600 were invited to the Buckingham palace for a reception hosted by the Queen herself.
Still, neither this nor the balcony kiss was the most memorable part of Watie Katie's big day if you ask us; it was the various forms and shades of hats we were h-attacked with on that day. They certainly made Nigeria's Madam Kofo smile (if you're below 20, you won't get that cultural reference, stop scratching your head!).
Photo: dailymail.co.uk
LeAnn Rimes  and Eddie Cibrian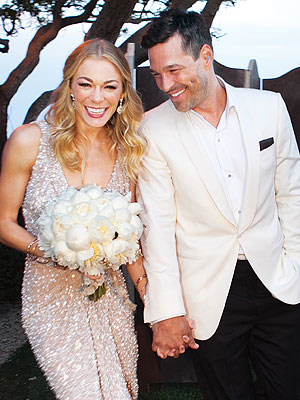 Country music star LeAnn Rimes and actor Eddie Cibrian shocked their guests on April 22 in Malibu, California. Their friends and family gathered for a engagement party, only to find out that the couple were a step ahead of them by tying the  knot instead.
The wedding band was designed specially for them by the groom's childhood friend.
Photo: people.com
America Ferrera and Ryan Piers Williams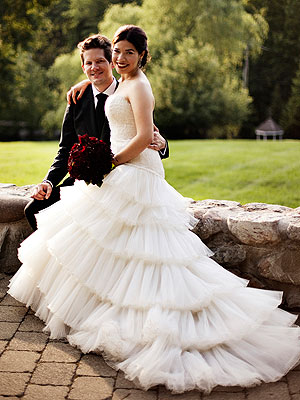 The thought of Ugly Betty getting a Mr Right was a hard one, we'd confess. But the pretty star behind the ugly character has found her other half. They met when she auditioned for a role in a movie he was producing, got engaged in 2010 and finally tied the knot in 2011.
The ceremony took place in co-star Vanessa Williams home in New York, with Blake Lively, Rebecca Romijn and cast of Ugly Betty in attendance.
Photo: people.com
Charlene Wittstock and Prince Albert of Monaco

South African former Olympic Swimmer, Charlene Wittstock took a graceful stroll down the aisle with royal fiancé Prince Albert of Monaco despite rumors that the African beauty was going to postpone the wedding because the prince fathered a love child.
The holy matrimony was witnessed by foreign royals and Hollywood celebrities. All's well that ends well!
Photo: fashionstare.com
Shania Twain and Frédéric Thiébaud

When one door closes another opens, no? Shania and Frédéric were supposed to be just friends; then it turned out that  Shania's husband (now ex-husband) and  Frédéric's wife, who was also Shania's best friend, were having an affair. This brought Shania and Frédéric together, in mutual comfort, and then love.
The country music star Shania Twain and Swiss businessman Frédéric Thiébaud's wedding was a sunset, beachside ceremony on January 1 in Puerto Rico. There's just something about love!
Photo: shaniatwain.com
[poll id="32″]