by Anike Jacobs
We understand that falling in love and being in a relationship can be very complicated, especially when things go wrong between the parties involved but this love story has got us confused!
Late last year, grapevine had it that Triple MG boss Ubi Franklin and his record label artiste, Emma Nyra parted ways after having being together for three years, over battery and assault claims.
So you can imagine our surprise on Monday morning when Emma Nyra publicly denied having ever dated her manager.
As a matter of fact, she swore that she has never gone on a date with him, yes she swore.
In her chat with Emma Emerson of Golden Icons, the singer said "No…never…See, I get that him and Iyanya but no. We have a business together and I never dated any of them so, yeah. I swear I never dated any of them."
Although she kinda admitted that she might date Iyanya.
" They ask me that all the time…maybe in the future, but not right now."
And then she had a thing to say about Ubi Franklin's engagement to actress Lilian Esoro.
"I'm happy for him. He's in a happy place. To marry someone you have to be on a certain level in your life so I'm happy for him. Well, I don't really know her very well because when they met I was more of doing my own thing so I don't really know her very well but I wish them the best really because married life is…When you find your partner, I feel like that's when your life actually begins."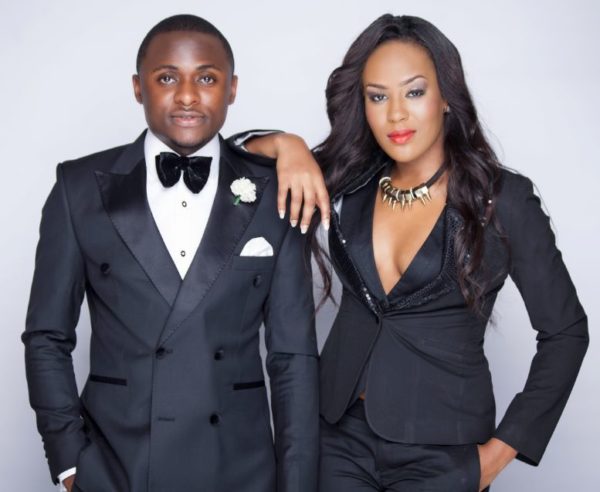 Barely hours later, Ubi Franklin decided to stab her on the back by revealing that they were actually an item.
"I was dating Emma Nyra and the relationship didn't go as I thought it should have gone" he candidly revealed in an interview with The Cable.
Ubi Franklin who normally shies away from the media was candid about his affair with his artiste Emma Nyra, and the drama it caused. "When you're dating somebody and you are the boss, there are things you can't tell your wife or your girlfriend. But if you say it to an employee you are dating, they tend to misbehave. Like, if you tell the others to do something, they will obey without thinking about it. It's not only me but it has happened to a lot of people, but that is the business lesson I've learnt in my life. That relationship made me cut off a lot of people and it also made me feel like everybody wanted the same 'cake' I was having. I spent a lot of time trying to beef people when I am not supposed to. It really dealt me a big blow. I decided in the end that it doesn't make any sense and we both understood that and moved on" he further stated.
He also mentioned on how he has invested a whole lot more into Emma Nyra's career than Iyanya who is the flagship act of the label. "I don't think that I have spent as much money on Iyanya as I've spent on Emma Nyra. Emma has like nine videos at about N3.5m" he revealed.
Still in the interview, Ubi Franklin revealed that he met Lilian Esoro after he stopped dating Emma Nyra.
He praised the virtues of his wife-to-be (virtues that Emma Nyra probably lacked) during the interview. " I met her after I had broken up with Emma, about four months after. Immediately I saw her, I said 'You are my wife'. She took it like 'I don't know what this guy is saying'. She's everything I can ever ask God for. She's very brilliant, she can cook. She's usually quiet and more reserved. She's not one of those actresses who are just out there and all over the place.
She's very subtle with everything she does. Even to post pictures on Instagram. The reason many people never knew we were dating is that she didn't want us to post any pictures on Instagram. I wanted to put up pictures but she told me that if we made it a social media relationship, then it wouldn't last.She's everything I can ever ask God for.
She's very brilliant, she can cook. She's usually quiet and more reserved. She's not one of those actresses who are just out there and all over the place. She's very subtle with everything she does. I've dated different girls in my lifetime but I believe when you meet a woman that you are going to marry you would know. You might date someone for 10 years and still not get married but the day you meet the person that you are going to marry, you will know."
Our verdict:
This is not the first time Emma Nyra is telling a public lie.
Early last year, she revealed in an interview that she had quit the triple M label, only for her to grant another interview months later stating otherwise.
She announced her first departure from the label in a December 2013 interview with Channels TV.
She said at the time, "I am no longer with the label … no, nothing happened I just didn't renew my contract. I wanna do 'female movement', that's what I want to do, yeah" adding she was going to dedicate herself to a 'girl power movement'.
She later denied her exit from Triple MG that same month – in December 2013, and disputed the rumours in an interview with Liz Yemoja on the Genevieve Magazine Show, saying that she was "100% with Made Men Music Group".
As for Ubi Franklin, the jury is still out on his matter…