With the new digital age, comes groundbreaking innovation. Technology is that particular area that has been sculpted well over time to solve life's matters and issues.
In regards to Nigeria, the developing country brims with social vices and troubles that actively hold it back from reaching its full potential. But, in recent times, Nigeria has taken giant steps with digital advancements in various sectors including education, finance, health and many more, all in the aim of making life simple and easier for everyday Nigerians.
Mostly in the form of mobile apps, these advancements help create and make long-lasting positive change in Nigeria. The following organizations particularly use technology to tackle Nigeria's most pressing dilemmas.
Health Technology
     Organization: Lifebank
Lifebank utilizes mobile technologies to save lives by making blood available to all persons of Nigeria.
The app serves as an index of all blood types, ready to deliver wherever and whenever needed in Nigeria. The organization can easily be described as a worthy cause, with reference to the average Nigerian society, for the fact that it helps build a culture of being informed and conscious. For a country that lacks a certain "giving" mentality so much that it can be seen as a problem, it deserves to be motivated and encouraged.
Nigerians tend to practice unhealthy diet habits related to their culture to the point that it results in a reduction in the quality of blood and an eventual low life expectancy. However, it should not have to mean total disqualification or relegation. Even the founder of Lifebank, Mrs. Temie Giwa-Tubosun regularly stresses that blood shortage is still a major problem in Nigeria. With this innovation, it promotes the proper entrenchment of such positive culture that is "giving" into every strata of a Nigerian's livelihood.
The growth of such an application can only come through the collective effort of Nigerians to replenish the nation's blood supply and ensuring that lives are saved.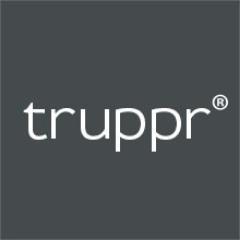 Fitness Technology
Organization: Truppr
There is no doubt that the health of Nigerians has become a rising cause of concern well over time. Fortunately, with the introduction of the digital age, efforts have been made to help curb this dilemma.
Fitness mobile application, Truppr is at the forefront of the mission that connects users to fitness activities and other users around them, in order to help them lead healthier lifestyles. A strong benefit of the app includes being able to bond with others and form a firm community of fitness partners, teammates and trainers around your vicinity.
Through the rapid globalization and urbanization rate of Nigeria, it has encouraged a trend of unwholesome lifestyle choices and health risks as discussed earlier, such as obesity further resulting in an uprising amount of diseases in the country.
Truppr effectively counters such a movement by promoting healthy lifestyles among the average group of unhealthy Nigerians. With time, many Nigerians can view exercise and fitness activities less like a chore but more so a pleasure and most importantly, a priority.
Education Technology
Organization: ScholarX
In the present difficult Nigerian economy, acquiring quality education whether domestically or internationally has become an expensive venture. But, with the introduction of Scholar X, a platform dedicated to collating scholarships, there's a path to affordable education. With the free application, students from different stages of academics including undergraduates, masters and PhD students can scour for scholarships that suit their qualifications whether in Nigeria or abroad.
While it may be free to download, full access to hidden scholarships demands the rate of N500 per year. Overseas schooling has been on the up rise since recent times for parents who seek a certain higher standard of education than the usual available at such a time in Nigeria, ScholarX effectively enables such a desire.
Economical Technology
Organization: BudgIT
Trying times call for transparency and that's all Nigerians demand from their government. Then comes the BudgIT app. BudgIT founder, Seun Onigbinde, innovated an app that made information on government spending accessible and available to the average Nigerian. The app was formed with the aim of social change and manages to simplify the most complex aspects of the annual budget, with the help of tech tools, for the average layman to understand and to push for better service.
With a history of unaccountability in the Nigerian government, the BudgIT app helps track the trajectory and follow-through of their promises, all in the bid of promoting good governance. The numbers tell the success of the software with a reach of over 750,000 Nigerians digitally and in physical places and over 2000 data requests from private and corporate entities.
There is no doubt that this application has an ample amount of potential but it inevitably falls on the hands of the citizens of Nigeria to make use of such data for the better of the society than allow the cycle of unaccountability of the Nigerian government.
Educational Technology
Organization: Efiko
It is not difficult for many to believe that in the current Nigerian society, effective learning mechanism and encouragement of self-assessments have significantly become lacking. So came the Efiko mobile application. Efiko runs on the message of inspiring self-learning by encouraging students to take control over their own learning through a social quiz platform. This was created in hope moving Nigeria towards the path of investing in human capital potential and away from the usual sole reliance on natural resources. A hefty benefit of such a technological innovation would be seen as possessing worthy employees capable of transforming the whole of Nigeria.
With the advent of technology, older generations have grown to see the new innovations as an avenue to waste time but with Efiko and many others like it, they serve as ample opportunities to improve the process and quality of learning. Efiko's emergence has certainly brought that pathway for Nigerians to start the process of detachment from the physical library to having the world at our fingertips.
Transportation Technology
Organization: GoMyWay
With a population of over N186 million, transportation in Nigeria tends to become a cumbersome task. GoMyWay takes that great step in utilizing such a complication for the benefit for all.
The mobile application serves as a ride-sharing platform that connects passengers with ride owners who are travelling along the same route and have seats to spare. Whether it is a long-distance trip across the country or a simple commute within your community, GoMyWay proclaims itself as the least expensive and most convenient option.
Amidst trying times where cost of fuel pushes people beyond comfortable bounds, this new innovation provides the perfect solution at the best time. By rethinking the systems of transportation in Nigeria, GoMyWay has effectively taken a role in tackling climate change and pollution with the use of mobile technology.
Welfare Technology
Organization: Grit Systems
A particular organization is leveraging on technology to ease a particularly exasperating aspect of living in Nigeria – managing power and energy. Such work is carried out by 'Grit Systems'. It is a startup that develops real time data and analytics about household and commercial electrical power consumption in a bid to manage it better.
This data is collected from multiple power sources including generators, inverters, solar panels etc. and collated to help the user determine the best form of power for their facilities, cost-reducing mechanisms and how to regulate power use.
This tech innovation helps the average Nigerian take charge over a burden seemingly out of their control and teaches them how to use their discretion to manage energy consumption habits and even carbon–dioxide missions. Amidst a struggling economy, Grit systems gives the power back to the Nigerian – even through gritted teeth.
All in all, the advent of technology and its importance to our growing economy cannot be overemphasized. The ease and accessibility to it must at every level be encouraged and entrenched into the minds of the growing population but primarily youth and professionals, it will ultimately spill into other demographics in the country. With technological advancements and innovations, its only left to Nigerians to grab control of the reins and take control of their own lives.