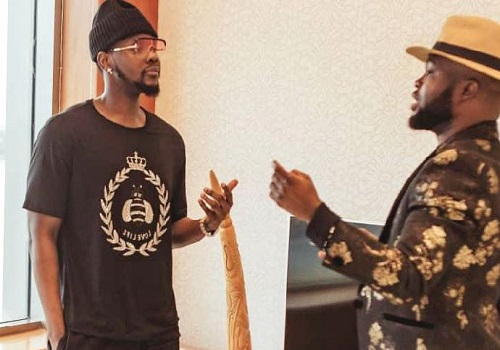 In a recent episode of the popular Way Up podcast, talented singer Kizz Daniel made a surprising announcement. The 29-year-old music sensation revealed that he has stepped down as the Chief Executive Officer (CEO) of Flyboy Inc., his record label. To fill the void, he has brought on board Emperor Geezy, the CEO of Emperor Geezy, as the label's new head honcho.
During the podcast, Kizz Daniel shared his excitement about the new phase of his career, stating that his focus now lies in nurturing music talents across Africa. He proudly mentioned that he has already signed a promising new artist named Prime to the label, who also features on his upcoming album.
"I recently made the decision to step down as the CEO of Flyboy Inc. and appointed Emperor Geezy as the new CEO. We have also signed an incredibly talented artist named Prime, who will contribute to the album," Kizz Daniel explained. "Our current project aims to promote and showcase young talents from Africa to the global stage."
Born Oluwatobiloba Daniel Anidugbe, the singer skyrocketed to fame with his hit track "Woju" in 2015. However, his journey hasn't been without its share of challenges. Kizz Daniel originally signed a record deal with G-Worldwide Entertainment in 2013 but eventually parted ways with the label due to disagreements.
The fallout resulted in a legal dispute that prevented him from performing throughout the festive season in December 2017. Additionally, he underwent a name change from 'Kiss Daniel' to 'Kizz Daniel' as a result of the conflict.
According to reliable sources, the split between Kizz Daniel and G-Worldwide was partly due to financial issues. In August 2015, reports emerged that despite his numerous hits, the artist was only earning a meager monthly salary of ₦50,000 (approximately $125) from the label. Although the reports were initially denied by the record label, the financial aspect is believed to have played a significant role in the discord between the parties.
During his tenure with G-Worldwide, Kizz Daniel faced restrictions on collaborating with other artists in the industry, which he found restrictive. His debut album, "New Era," released in 2016, featured no collaborations except with his fellow label mate, Sugarboy.
In a 2016 interview, he expressed his limitations, stating, "I'm signed to a record label, and for now, the management only allows me to collaborate with in-house artists Dj Shabsy and Sugarboy. Maybe later I'll do songs with other artists, but for now, it's out of the question."
He was also prohibited from granting unauthorized interviews to the media, resulting in a scarcity of interviews featuring the artist. In a 2016 interview with Ebuka Obi on "Rubbin Minds," he was asked about his age, to which he replied, "About the age stuff, my team will release a press release on that. For now, I would rather not say anything because it goes beyond just my age."
In November 2017, Kizz Daniel took a significant step forward by establishing his own record label, Fly Boy Inc. During the same year, he signed two artists, Demmie Vee and Philkeyz, to the label.
This recent development in Kizz Daniel's career showcases the fluid nature of power dynamics in the music industry, where change can occur swiftly and unexpectedly. The artist's focus on nurturing African music talents hints at exciting prospects for the future.