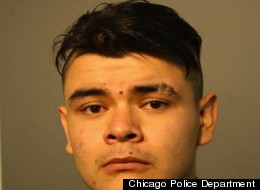 A 22-year-old Chicago man was arrested Thursday after he allegedly entered his ex-girlfriend's home and stabbed her cat multiple times on Monday evening.
Police say Miguel Vazquez, of the 4500 block of North Kimball Avenue, broke into his ex-girlfriend's home in the city's Uptown neighborhood around 9 p.m. Monday. CBS Chicago reports that he was confronted by his ex-girlfriend when he left her apartment around 1 a.m., at which time he allegedly told her he had "left a surprise" for her inside the apartment.
Inside her apartment, Vazquez's ex-girlfriend discovered a smashed computer and computer and the apparent "surprise:" her 1-year-old cat stabbed multiple times with a kitchen knife, according to DNAinfo Chicago.
The cat was seriously injured and taken to a veterinarian but survived the stabbings, the Chicago Tribune reports. A 25-year-old male friend of Vazquez's ex-girlfriend's was taken to an area hospital after Vazquez allegedly hit him in the back of his head with a padlock.
In court Friday, Vazquez's bond was set at $200,000 on the charges of aggravated cruelty to animals, aggravated battery or use of a deadly weapon and residential burglary.