You'd think that politicians patronising religious institutions when seeking office is a concept limited to Nigeria right? **side eye Goodluck Jonathan a la 2015 elections**
Yet, more and more, it's becoming quite clear that everywhere, politicians do what they have to – whatever works – to get what they want.
To be fair, it probably has more to do with us – the electorate – than it has to do with them. But that's a matter for another day.
Today, British Prime Minister, Theresa May failed to get what she wanted. Her Conservative Party is short of at least 8 of the House of Commons seats that it needs to hold on to the majority that will allow it (and her) control the government (or pass legislations, if you prefer the more politically correct thing).
Two weeks ago, during the campaigns, Mrs May made her way to the RCCG Jesus House in London. For a British Prime Minister, who desperately wanted to hold on to her government so bad she called for an election three years ahead of time, visiting this Church meant that our Church Bloggers were right: "Jesus House is an African immigrant powerhouse".
And when you are seeking to gain the votes of the enfranchised in that community, that's where you go. It's what Nigerians in Nigeria do; why shouldn't the British canvassing for our votes do it?
Admittedly, our analysis may well be in the realm of conjectures. Maybe we are just projecting our Nigerianness on these perfectly beautiful Londoners. Whatever the case, it did not work for Theresa May. A day after her own Snap elections, she's flailing.
Still, this is much bigger than May (yeah, it's June, LOL). We say this because the same thing happened to David Cameron.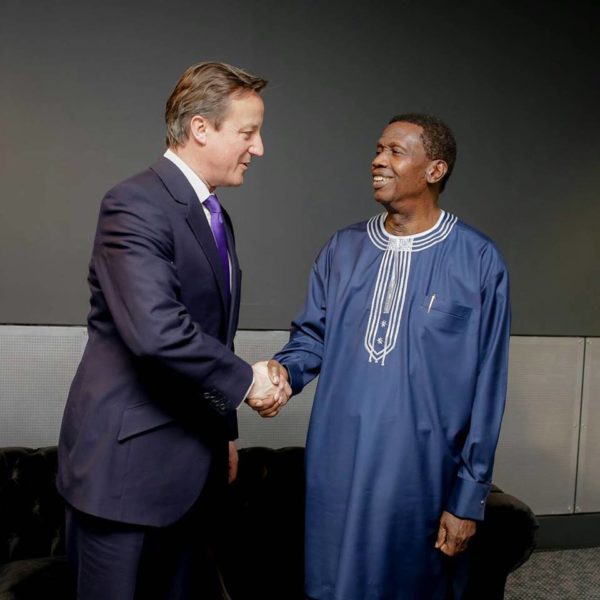 The former British PM who resigned in the wake of the #Brexit vote also made a campaign stop at the Jesus House when he was seeking re-election in 2015.
He attended an RCCG 'Festival of Life' event in London in April 2015 ahead of the May 2015 #UKElections. The General Overseer of RCCG, Pastor Adeboye even prayed for him.
Like Mrs May, of course, Cameron never said he went there to deliver a campaign speech or anything and we may well be doing our conjecture thing again here, especially considering the fact that he did okay during his own May 2015 election. But that anointing did not carry him through the #Brexit polls, for which he strongly campaigned for Britain to "Remain".He had to resign shortly after the polls.
He had to resign shortly after the polls.
So what's up with British PMs and Jesus House? Are we going to see more of them visiting after this?
We won't say we are doubtful. But we'll see.