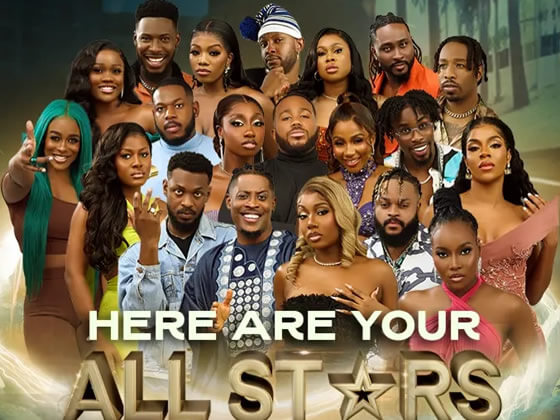 In the electrifying Season 8 of Big Brother Naija, viewers were treated to a nostalgic journey with a familiar face in an unforgettable setting. The excitement was palpable as renowned media personality and former #BBNaija Housemate, Ebuka, took the stage, and Big Brother himself welcomed everyone back with his signature charm.
As the show commenced, the stage came alive with a vibrant performance by trending Nigerian musician, Kcee, setting the energy levels through the roof.
Back Like They Never Left: The All Stars Take Center Stage
It was a royal affair in the Biggieverse house as the All Stars, having made their mark in previous seasons, returned to bask in luxury once again. Their chance for redemption had come, and this time they would be treated like royalty, vying for the grand prize of 120 Million Naira.
One by one, the returning All Stars made their grand entrance, their arrival met with thunderous cheers from their devoted fans. As they engaged in playful banter with Ebuka, the excitement reached a crescendo. From love lessons to future plans, each housemate shared their aspirations with unbridled enthusiasm, fueled by the burning desire to win it all.
See the list of all the housemates below.
A Kaleidoscope of Moods and Vibes: Drama Unfolds
As the doors to the house swung open, the emotions were palpable. The vivacious CeeC, known for her "face" moments, confidently took the lead, setting the stage for an intense and captivating season. See Gobe alumni, Soma, and Uriel embraced with joy, rekindling cherished memories, while Neo's energy knew no bounds as he dashed towards Venita, adding an extra dash of excitement.
Amongst the palpable excitement, there was a brief moment of awkward silence when former Level Up housemate Adekunle walked in, hinting at potential dramas yet to unfold.
Mercy and WhiteMoney: The Ultimate Comeback
The real game-changers were none other than the former winners of the Pepper Dem and Shine Ya Eye seasons – the vivacious Mercy Eke and the charismatic WhiteMoney. Their grand entrance was nothing short of spectacular, their outfits dazzling the crowd and fans alike. Yet, amidst the jubilation, one question lingered – did they need more visibility, and was it fair for them to compete again?
Drama, History, and Anticipated Clashes
The All Stars Edition is not without its fair share of history and tensions. The feisty CeeC and Alex, known for their infamous feud, are back in the spotlight, and fans are holding their breath for possible fireworks. Doyin and Adekunle, with their past drama on the reunion show, are sure to keep us on the edge of our seats.
Let's not forget the ever-entertaining duo of Mercy and her former heartthrob Ike. Fun fact: Ike was caught drinking a suspicious amount of water when Mercy made her first entry into the house. Could old flames reignite, or will new sparks fly in the All Stars Edition?
And who can ignore the impending clash between General Pere and Emperor WhiteMoney for ownership of the kitchen? Place your bets; it's sure to be a culinary battlefield, and our money is definitely on WhiteMoney.
Rekindling the Spotlight on Old Favorites
Beyond the drama, the All Stars Edition brings back some of our all-time favorites who once graced our screens but seemed to fade from the spotlight after leaving the house. Fans are eagerly looking forward to Uriel's Diary room sessions, known for their lit conversations with Biggy.
Soma's return brings unmatched energy, and Angel's presence has her devoted archangels thrilled for the chaos she'll surely stir up.
The cousins Venita and Neo add a fascinating twist, and it seems like Neo's family is so large that Big Brother had to pick not one but two members.
An Escape amidst Hardship
In the face of Nigeria's challenges, the Big Brother Naija All Stars Edition offers a much-needed escape. With a diverse and dynamic cast of housemates, this season promises unforgettable moments, entertaining drama, and the chance for past contestants to seize their second opportunity at glory.