by Hauwa Gambo
In case you were in any doubt, well the world has now completely changed – and the New Yorker is here to prove. The cover of the authoritative magazine honours Mother's Day with with its usually illustrated cover – but this time it's of a lesbian couple, two moms reading a card in their kitchen. Call it the new normal.
"The moms, dressed respectively in pink and blue robes, were shown standing above a bouquet of flowers on their breakfast table on Mother's Day morning. Three children appeared in the background of the cover, on the staircase and peering into the kitchen to watch their moms read the card that accompanied the flowers," says the Huffington Post
Artist Chris Ware, also the creator of the magazine's Newtown-inspired cover from January, described the cover, named "Happy Mother's Day," on The New Yorker's Culture Desk blog.

Fortunately, we humans are incessant editors, never happy with the first draft of anything….

Few people today don't know—or have in their families—at least one loving couple who are raising children, same-sex or not. And it's really just the loving part that matters. That same-sex marriage could go from its preliminary draft of 'diagnosable' to the final edit of 'so what?' must indicate some positive evolution on the part of the larger human consciousness.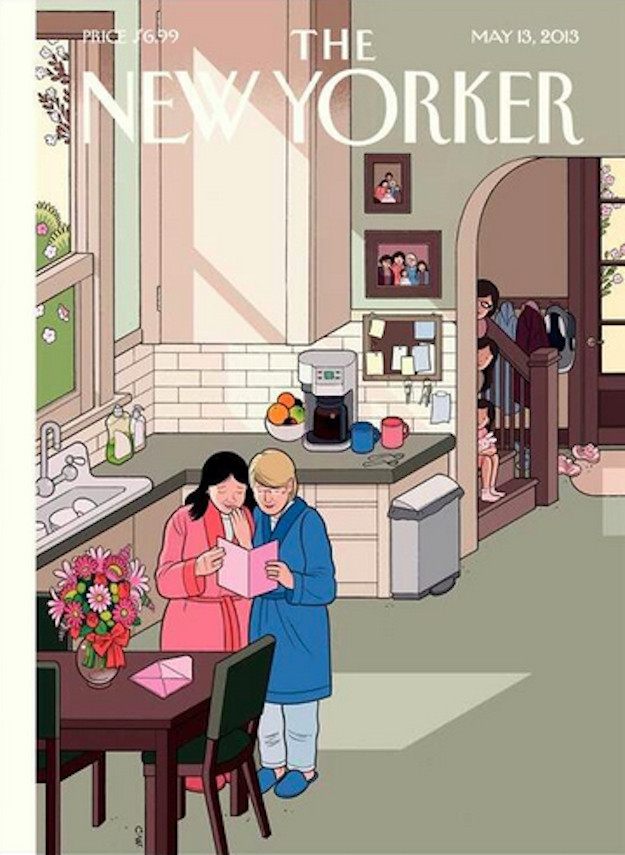 And it's a Happy Mother's Day to us all!