"Why would anyone choose to be gay in a heteronormative society like ours? Do you think if gay people had a choice they will not change their sexual orientation?" Olumide Makanjuola asked midway into our discussion.
Energetic and expressive without being overtly effusive or dramatic, Olumide speaks with a subtle authority and an engaging yet steady voice, his overgrown beards accentuating his cheekbones.
Olumide is the managing director of The Initiative for Equal Rights (TIERs), a non-governmental organization (NGO) that is working towards protecting the rights of people with same sex attraction.
Educated both in Nigeria and abroad, Olumide holds a degree in business management from the Ogun state Institute of Technology, and  City University London.
"No, we do not generate revenue. TIERs is a nonprofit."
TIERs was founded in 2005, but its first event ever was in 2006.
Olumide says he was never a figurehead in the beginning but somehow, of the nine persons that came together to found the organization, he's the only one still working full time with the organization.
"Everyone", he said, "have gone on to do other things. I will move on one day."
He finds validation in his work instead of looking at other people for validation.
"I cannot let the world or society define me as a person," Olumide insists, his voice raising a notch higher as if to buttress his point.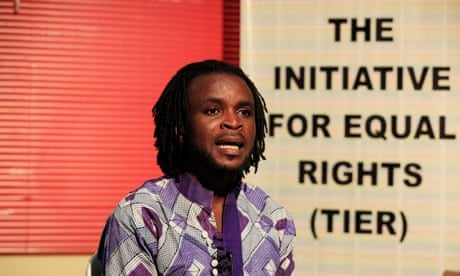 He says he was never involved in activism before TIERs, but was drawn into it by some of his friends who banded together to found the organization.
The first event –aimed at creating awareness on the dangers of HIV/AIDS amongst LGBT people- by TIERS was funded from their pockets (the nine founders) but over the years, the organization has grown bigger than any of them ever envisaged.
TIERs has established centers in different West African countries, including Ghana. Their aim is simple –to educate people on the complexity of human sexuality, rights of LGBTs and create awareness for the emotional and social struggles that LGBT persons go through.
Nigerians, and a vast majority of Africans, are unaware of the plight of gay persons living in a hugely conservative country like ours.
According to a recent poll by the Bisi Alimi foundation (in collaboration with NOI polls and TIERs), only 17 percent of adult Nigerians know a person who is a lesbian, gay or bisexual –and the number is even lower among persons over 46 years of age. Recent studies also support the assertion that tolerance of people with same sex attraction increase with awareness and knowing an LGBT person.
However, Nigeria is unarguably a homophobic country, with cases of attacks and jungle justice meted out to LGBT persons. A decreasing majority of the country oppose same sex relationships often describing it as unnatural or un-African.
Asked if he is not afraid of his safety, Olumide smiles gently and says he isn't.
People are sometimes dismissive and condescending of his work, Olumide admits, but he has since gotten over that and learnt to focus his energy on what matters, which is to fight for the right of LGBT people.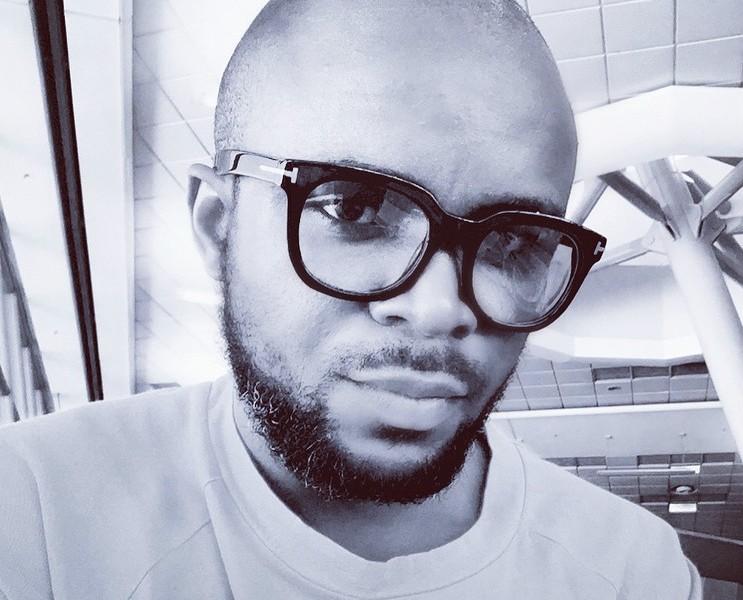 "A misconception is that we are fighting for same sex marriage in Nigeria. No, instead we want to make people understand that gays are human beings first, before any other thing."
He cites the case of Akinnifesi Olumide Olubunmi who was beaten to death in Ondo state because of his sexual orientation.
Is being gay enough to kill a human being? Olumide asked, rhetorically.
Sexuality is something we do not have a choice over, if we did; gay, bisexual and transgender persons will most gladly change their identity to conform to societal norms rather than face stigmatization, emotional, verbal and physical attacks, Olumide says.
"Nobody will be happy to be taunted and bullied over something they have power over. That is why many gay people are depressed in Nigeria. Do you know what it feels like to live a double life? To pretend to be what you are not."
Sometime ago, the activist met with a young undergraduate who had attempted suicide for the fourth time. The student, Olumide says, was being bullied because of his mannerism.
"They said he behaved like a girl," he added, noting that the rate of suicide among LGBT people in Nigeria is high.
"Generally, Nigeria is an oppressive place. No one is really happy. Everything in Nigeria is designed to oppress and depress citizens, regardless of gender and sexual orientation. Now imagine being different in an already oppressive environment?"
Nevertheless, Olumide says he understands why Nigerians are so aggressive to people of same sex attraction and people that behave differently.
Social construction and a lack of education on the issue are to be blame for this, he opines.
"People go through primary and secondary schools, and the university being taught these things. How being different is bad. Such mindset cannot be changed overnight, change is something that takes time."
He further noted that society is built to make one gender more powerful than the other, and that LGBT persons, through their orientation, challenge the roles prescribed for each gender, especially men.
"Gay people are everywhere. The bus conductor, banker, entertainer, doctor, street seller, anyone could be gay. It not something one has a choice over," Olumide reiterates, speaking faster as he settles into the discussion.
Judging by recent polls, the attitude of Nigerians towards persons of same gender attraction has significantly changed -albeit slightly- from what it used to be. An increasing number of persons are more tolerant of LGBT persons.
"Show me one straight person that his right as a human was violated because another person is gay? What two consenting adults do behind closed doors is nobody's business and doesn't violate anybody's right."
TIERS, Olumide says, is working to better educate the public on the issue of sexual orientation by using alternative narratives, movies, awareness programs and social media.
"We have made a lot of progress, considering the kind of environment we are in."
He acknowledged that people, regardless of sexual orientation, are becoming more accepting of LGBT –something that was almost unheard of ten years ago.
Making a part, the whole
"Being gay is not the totality of who a person is, it is not the identity of the person, rather a small part of who he is as a person. Anybody could be gay, regardless of profession", Olumide said.
He throws out the popular belief that there are a larger number of gay people in the creative industry, saying that "its just sterotype."
He averred that homosexuality is not just a behavior neither is it a totality of a person or the most important thing about an individual.
"The last thing I look out for in a person is his sexual orientation."
Police attitude
Several of the cases handled by TIERS last year involved the police.
One young man was beaten severely by the police on the suspicion that he was gay, Olumide says. He pointed out that people are often arrested because of the way they walk or behave, and are made to bail themselves out with huge sums of money.
"The police force them to open their accounts so they can go through their social media chats and print it out if they see anything suspicious they can use as evidence to hold the person. And if they don't see, they go through the person's phone gallery."
Olumide says TIERs has in the past worked to free LGBT persons arrested by the police while noting that the police often arrest persons perceived to be gay so they can extort  them.
 Hell or high water
TIERs is working on a number of outreach programs that seek to enlighten people better on the issues of LGBT.
Recently the organization, in collaboration with Asurf Films, released the trailer of a short film, Hell or high water.
The movie tells the story of a pastor, who leads a double life. It weaved through the lines of sexuality, religion, family and blackmail, while at the same time appealing to human emotion through a compelling storyline.
Olumide says that the reaction of the public to the film has been very positive.
"After watching the trailer of the movie, a guy shared his own experiences on the comment section of Bella Naija. He even sent us an email," Olumide said, a victorious smile plastered on his face.
The Same Sex Marriage Prohibition Bill of 2011
The danger of this law is that it legalizes jungle justice and hate towards people of LGBT persons, Olumide infers.
He quickly adds that by not opposing that bill, a law will one day be made that infringes on the right of straight people.
According a poll, 87 percent of Nigerians support the Same-Sex Marriage Prohibition Law, a sharp decrease from the 96% that opposed same sex relationships in 2010 and 92 percent, in 2013.
Olumide says that overtime Nigeria will become a safer place for LGBTs, but he agrees that it will most probably not be anytime soon.