by 'Jola Sotubo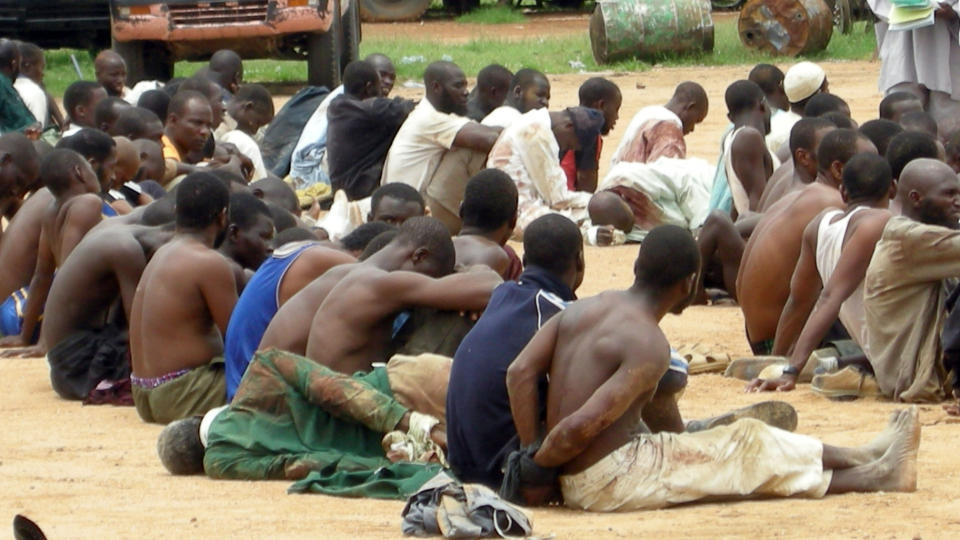 In a true case of bullies acting like cowards, two men suspected to be members of Boko Haram have been apprehended while disguised as women.
The suspected terrorists dressed in female Muslim attire to avoid being arrested but their ploy failed. They were spotted by a local vigilante group, called Civilian JTF, and handed over to soldiers in Maiduguri, Borno state
The soldiers received the suspects from the vigilante and then shot them dead. The incident has heightened the fears of residents and confirmed the rumours that had been going round Borno that the insurgents had developed the tactic of disguising as Muslim women to evade arrest.
According to reports, the decision of the insurgents to disguise their appearances follows the increased clampdown on them by the Civilian-JTF.
On Thursday, two of such cross-dressers, both in their early thirties, were arrested while trying to go about unnoticed. The two suspected Boko Haram members, who were said to be residents of Shehuri area of Maiduguri, were caught on the way out of the city to Konduga by the Civilian-JTF.
It took a while to convince witnesses that the two young ladies with voluptuous breasts and heavy waists were men. According to a Civilian-JTF operative, Isa Aliko, the two cross-dressing men were nabbed based on a tip-off from some young men who hung around the Shehu of Borno's Palace.
"We know all of them and when we were given the hint that they were dressed like women and covered with Hijjab (Islamic cover for women), we launched a search for them until we finally caught them at the outskirts of the town," said Mr. Aliko.
The two men wore heavy makeup, ear rings and head ties with two big oranges each in their brassieres masquerading as breasts. After they were caught, they were beaten by angry Civilian-JTF members before they were handed over to soldiers who subsequently shot them dead.
The Nigerian military has been having a torrid time dealing with the outlawed sect in Borno and neighbouring Adamawa and Yobe. While the military has suffered causalities, it has announced the successful hunt and demolition of several cells of the insurgents.
The military recently announced the likely death of the sect's leader, Abubakar Shekau, following a shoot-out with soldiers. The announcement came several hours after the second in command to Mr. Shekau was also killed in a gun battle with soldiers.
Borno, Adamawa, and Yobe have been under emergency rule, since May 24, to flush out the sect and other criminals operating in the area.