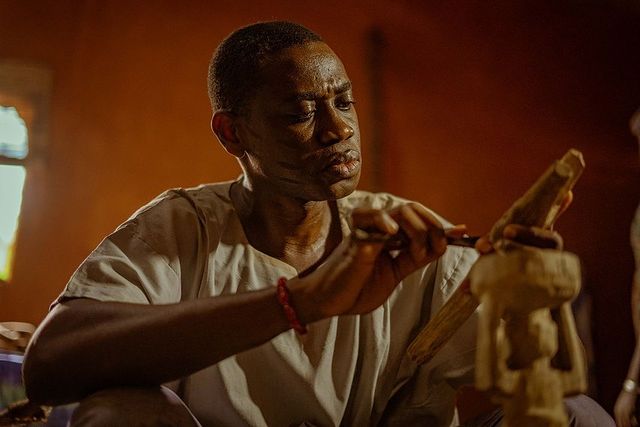 Exciting news for movie enthusiasts as renowned filmmaker Kunle Afolayan announces the much-anticipated sequel to his award-winning film 'Anikulapo'. In a recent Instagram post, the talented director revealed that the sequel, titled 'Rise of the Spectre', will be presented as a thrilling four-part series on Netflix.
Afolayan, known for his exceptional storytelling, shared that the new series will feature the original cast, along with talented new faces like Lateef Adedimeji, adding depth to the captivating narrative. In collaboration with Golden Effects Pictures, Kap Motion Pictures proudly brings this sequel to life.
Penned by Sola Dada, who received the prestigious Best Writer in a Drama award at the recently concluded Africa Magic Viewers Choice Awards (AMVCA), 'Anikulapo – Rise of the Spectre' promises to exceed expectations. It ventures into uncharted territory, exploring the intricate concept of reincarnation and the profound connection of our souls across lifetimes.
Read Also: Kunle Afolayan's 'Anikulapo' Takes Home Best Overall Movie Africa at the AMVCA's 2023 #AMVCA9
Following the phenomenal success of the 'Anikulapo' movie, which gained worldwide recognition on Netflix with a staggering 8,730,000 views within two weeks, 'Rise of the Spectre' takes viewers on an enthralling journey through time. With over 600+ cast and crew members, Afolayan's debut feature series guarantees a visually stunning and emotionally powerful experience that will keep you on the edge of your seat.
The sequel welcomes back beloved characters from the original film while introducing intriguing new ones, promising an exceptional ensemble performance. Set in the magnificent Oyo Kingdom of the 17th century, 'Anikulapo' centers around Saro, a talented cloth weaver, whose life takes an extraordinary turn after being revived by a mystical bird. His quest for a better life in the grand Oyo Kingdom explores themes of identity and rebirth in Africa, offering a multi-dimensional perspective on the concept.
The original movie boasted an impressive cast, including Kunle Remi, Bimbo Ademoye, Adebayo Salami, Taiwo Hassan, Hakeem Kae-Kazim, Sola Shobowale, and Yinka Quadri. Notable names such as Toyin Afolayan, Kareem Adepoju, Eyiyemi Afolayan, Faithia Williams, and Aisha Lawal also graced the screen, delivering stellar performances.
'Anikulapo' earned four prestigious awards, including the coveted 'Best Overall Movie, Africa', at the 2023 Africa Magic Viewers Choice Awards (AMVCA) ceremony. With such accolades and the remarkable success of the first installment, anticipation for 'Rise of the Spectre' continues to soar.