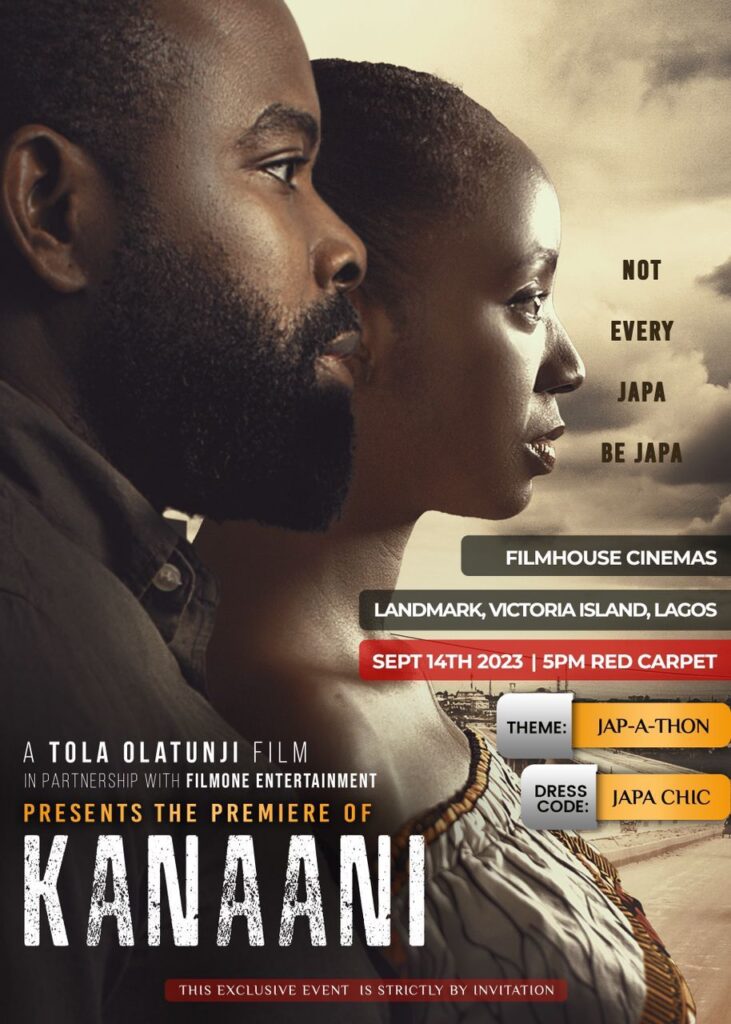 Tola Olatunji and Jennifer Mairo have announced the dates for the Nigerian grand premiere of highly-anticipated movie. Tipped to be an eye-opening, emotional rollercoaster, the movie's private screening will take place on Thursday, September 14, 2023 at Filmhouse,Landmark Victoria Island and subsequently release for viewing in cinemas nationwide from Friday, September 15, 2023.
'Kanaani' illuminates on the popular phrase 'No be every japa be japa' and delves deep into the adventures, and perhaps misadventures, many African immigrants encounter in their pursuit of 'greener pastures'. In exploring themes of hope, love, and extreme pain, 'Kanaani' raises the consciousness and gaze of viewers to the unpalatable realities of human trafficking and modern day slavery. With a stellar cross-cultural cast featuring Gabriel Afolayan, Ivie Okujaye, and Robb Hudspeth, the movie promises to be a gripping cinematic experience.
"We are incredibly excited to present 'Kanaani' to the world. This film is the culmination of years of hard work and dedication from our passionate team," said Olatunji.
"Themed 'Jap-a-thon' the exclusive event at Filmhouse Cinemas, Landmark will be a star-studded affair, with acclaimed industry figures and esteemed guests billed to grace the red carpet. Attendees can expect an enchanting atmosphere, complete with stunning looks, and exclusive interviews with the cast and crew.
Set against the backdrop of a small fishing village in Edo state, 'Kanaani' follows the journey of star-crossed lovers Obehi and Gbovo, played by the dynamic duo Gabriel Afolayan and Ivie Okujaye. Their enduring love is put to the ultimate test as they navigate a world of unforeseen twists and hardships, ultimately finding themselves in unexpected and heart-wrenching circumstances.
For more information: @kanaanithemovie @tolaolatunji @jennifermairo #KanaaniTheMovie