"When I saw her arrival pictures wearing a modest outfit respecting our culture, I was like, 'This looks so much like my abaya!'"
-Nahed Andijani, CEO Trendy sketch PR Jeddah, was quoted as saying by Arab News.
Melania Trump has drawn quite the attention with her style choices in Saudi Arabia. From the black Stella McCartney jumpsuit cinched at the waist with a large gold Saint Laurent belt (which Footwear News reports is now sold out on Net-a-Porter.com) coupled with Christian Louboutin pumps in Saudi Arabia to the sweeping magenta gown, complete with flowing cape sleeves, which she wore at the opulent welcome reception dinner at the Saudi palace, Melania Trump is the rave of Saudi Arabia.
Look 1
The stretch cady jumpsuit — with wide-leg silhouette, keyhole cut-out at the bust, and cuffed sleeves caught the attention of the Saudi Arabian press and locals, who praised her for it saying it looked like an abaya, and showed Melania's "respect for their country's traditions" . Moreover, it's "not only modest, but elegant at the same time."
.@FLOTUS praised in Saudi news for her "classy and conservative" look (sans headscarf) ?????? cc: @KateBennett_DC @betsy_klein pic.twitter.com/fXVawpZkVV

— Elizabeth Landers (@ElizLanders) May 21, 2017
Thank you for a beautiful welcome to #Riyadh! #SaudiArabia pic.twitter.com/BcrMR0OYSK

— Melania Trump (@FLOTUS) May 20, 2017
Melania's spokeswoman, Stephanie Grisham, said that it was not a coincidence resembled an abaya.
"If you look at her style, it's still very much her and her style of dress but being sensitive to the place and host nation for sure," Grisham said.
Look 2
For dinner at the Saudi palace, Melania changed into a floor-length fuschia dress that incorporated a cape-style silhouette with structured shoulders and draped sleeves. Sparkling crystal detail around the high-neck collar completed the look. Melania teamed the outfit with matching footwear — a pointed-toe pump.
.@POTUS @realDonaldTrump arrives w/ @FLOTUS Melania at Murabba Palace, escorted by King Salman for a great tour. #POTUSAbroad #قمة_الرياض pic.twitter.com/y7nBcd7qvn

— Dan Scavino Jr. (@Scavino45) May 20, 2017
Look 3
Besides accompanying her husband to functions at the palace, Melania Trump engaged in activities of her own. Earlier today, she visited the American International School of Riyadh and gave several Dr. Seuss books to a preschool class. A chorus at the school sang the song "Lean on me" to the first lady and she clapped along.
The first lady also visited the first all-women GE business centre in Riyadh where she spoke to women there about the centre's work and work-life balance in general. She was at one point asked how she balances her family responsibilities with her life as first lady and responded: "You need to balance and find the time."
Melania Trump wardrobe selection to the school and women's centre was a knee length, Khaki coloured Ralph Lauren Collection safari buttoned down shirtdress with brown and white striped pumps. Gold bangles and a chunky belt completed the look.
ABC reports Melania said to a woman at the centre, "I'm very proud of you, very, very proud of you." And on a wall at the front of the room where visitors write messages, she wrote: "I am so proud of what you are doing! Thank you for hosting me here! Best wishes, Melania Trump."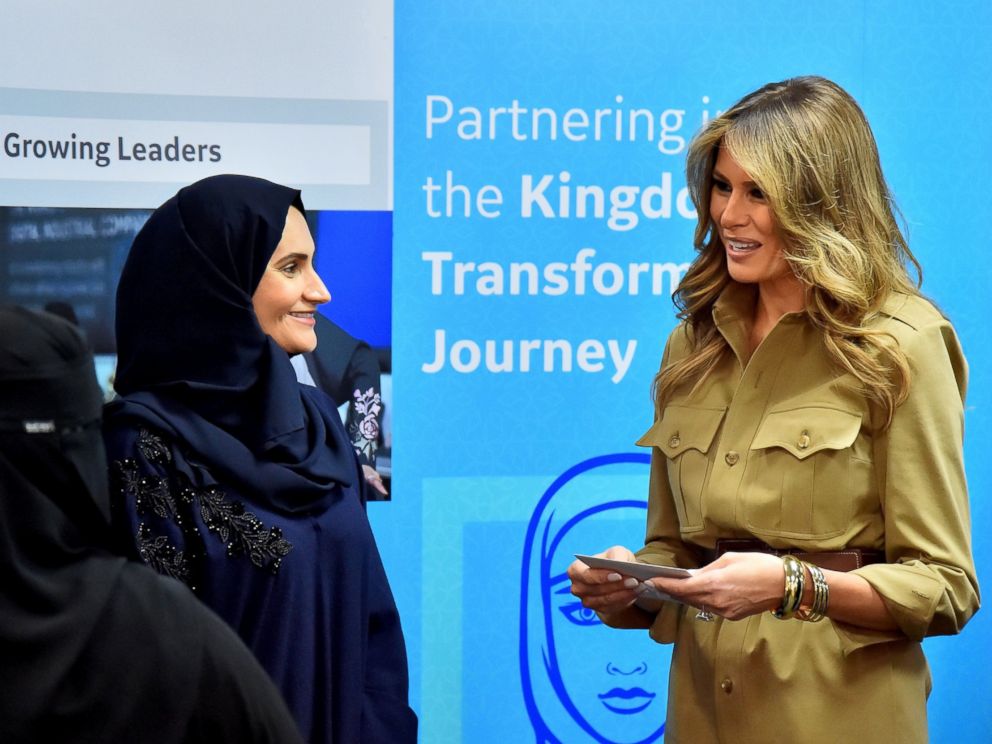 Melania tweeted about her visit to the women's centre
Enjoyed talking to the incredible women working hard @GE_Saudi service center. Great strides being made towards the empowerment of women. pic.twitter.com/bXdES83w3P

— Melania Trump (@FLOTUS) May 21, 2017
Look 4
For the Arab Islamic American Summit, Melania "made a business-chic transformation into a tailored white blazer with matching trousers and a black blouse with ladylike bow detail. Black pumps with embossed snakeskin material complemented the ensemble."
Melania clearly still has the model magic.
While Saudi Arabian women went nuts on social media posting look-alike photos of themselves wearing "Melania-style" abayas, international Twitter was impressed by the strong message she passed. Do see below:
"When I saw her arrival pictures wearing a modest outfit respecting our culture, I was like 'this looks so much like my abaya!' " Andijani told Arab News. "She wore a golden belt, while I wore a golden rose but still look so much alike."
First Lady Melania #Trump looks so strong sitting next to Saudi leaders… no headscarf, no hijab! Rep the West! #AmericaFirst pic.twitter.com/ac3AYGbYXO

— John Binder ? (@JxhnBinder) May 20, 2017
So King Salman of Saudi Arabia shook hands with Melania Trump whose hair flew everywhere. In Nigeria my muslim folks go dey form holiness

— The Great Oracle (@AbdulMahmud01) May 20, 2017
Saudi Arabia people are acting right now, as they have never seen a woman like Ivanka or Melania Trump.??? #بنت_ترامب

— Manish Shaarma (@Manishshaarma) May 20, 2017
Donald Trump's international trip has only begun. His next stop is Isreal. As the world monitors Trump's movement during the next couple of days, it is fair to say all eyes will be on Melania Trump to see how much "sauce" she'll serve."
[Read also]: "Fact Check: Melania Trump did not defy local customs by going bareheaded"