Having unveiled the statue of the President of South Africa, Jacob Zuma,  – see reactions – the governor of Imo, Rochas Okorocha is set to unveil the statue of another President – Ellen Johnson-Sirleaf of Liberia.
A News Agency of Nigeria correspondent in Owerri reports that the latest statue is scheduled to be unveiled on November 9.
The statue and two others, including that of Zuma are at Freedom Square on Wetheral Road, Owerri.
Okorocha displayed Johnson-Sirleaf's statue on his twitter handle, saying that the Liberian leader would be honoured during her visit to Imo on November 9.
[ICYMI: These are how many more erections Rochas Okorocha will show us (PHOTOS)]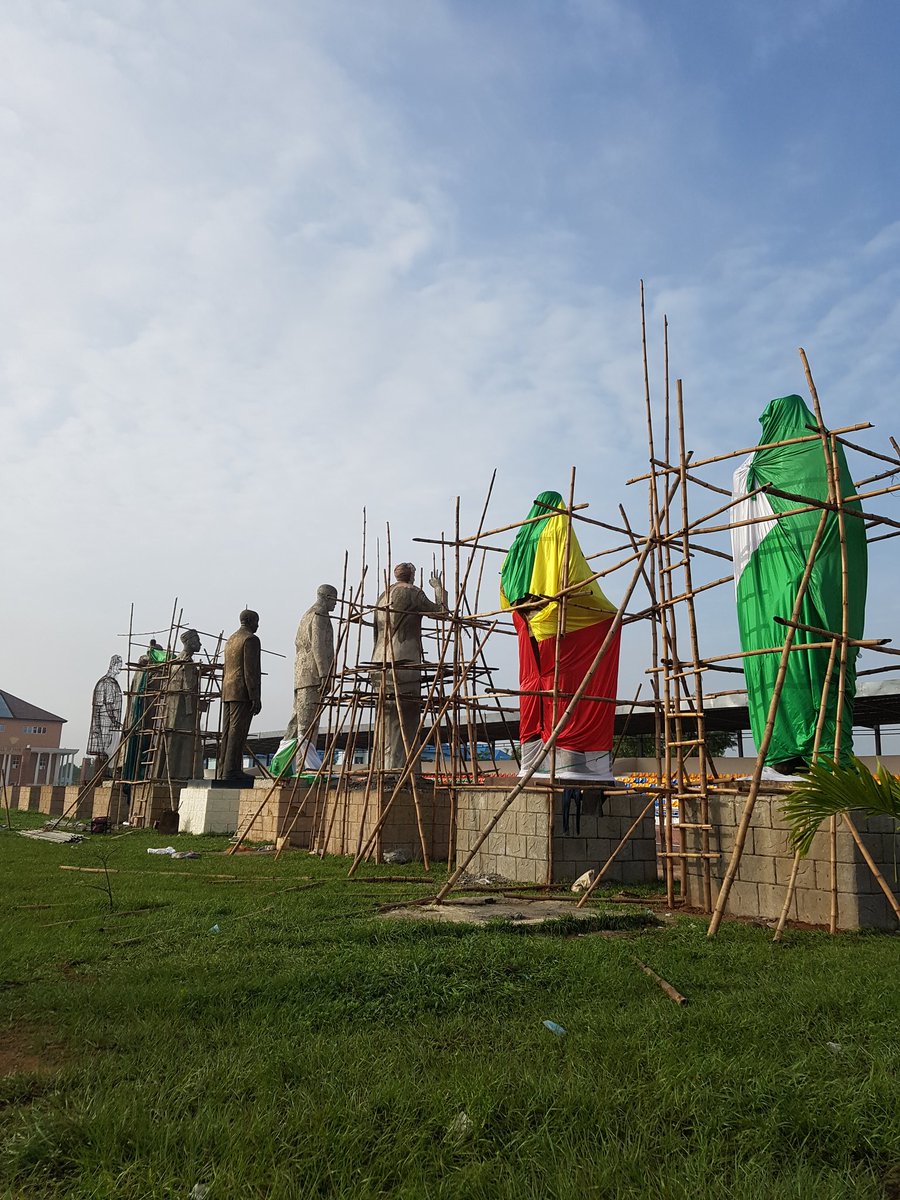 "The Liberia President, Mrs Ellen Johnson-Sirleaf is set to arrive our dear Imo State for a two-day working visit on Thursday, 9 Nov. 2017," Okorocha twitted.
https://twitter.com/GovernorRochas/status/927972083027578880
A statement to newsmen in Owerri, by Okorocha's Chief Press Secretary, CPS, Sam Onwuemeodo, said Sirleaf would also deliver a lecture on "Women in politics."
According to the release, "On arrival on Thursday, Mrs. Sirleaf would be taken to the Palace of Eze Imo to be accorded the African way of receiving an august visitor like her and the Chairman of the State Council of Traditional Rulers, HRM Eze Samuel Ohiri will be expected to decorate her with a Chieftaincy title.
"Taking into account that she took over the leadership of Liberia soon after a bloody Civil War and she has been able to sustain the peace of that Country for ten years now.
"The following day being Friday, November 10, 2017, Mrs Sirleaf will then be at the Rochas Foundation College of Africa where she will meet with the Students and also specifically interact with the Liberian Students.
"And all these will help to instill confidence in the students and brandish a juicy future for them.
"After her outing to the College, the Liberian President will deliver a lecture to Imo women at Imo International Convention Centre, IICC, and the topic will be women in politics.
"And the lecture is structured to encourage women in the State to develop an interest in leadership, especially when it is recalled that Mrs Sirleaf is the first female President in Africa."
Omoleye Omoruyi… an apprentice web/game developer, novelist, sensitive to happenings in the world. Meet him @Lord_rickie on Twitter/Instagram