Art can be made in many forms and interpreted to mean a plethora of things. This week, we bring to your attention the top 10 Nigerian artists (painters) with an earth-shattering portfolio of exquisite, colourful paintings and drawings.
At Ynaija, we recognise the art in its truest form, as we have dedicated a platform to praising the beauty and uniqueness of art created on Nigerian soil.
These top 10 Nigerian artists (painters) immerse themselves in their feelings, drawing out their emotions as they bring their imaginations to life.
Here Are The Top 10 Nigerian Artists (Painters)
Peju Alatise
At the top of our top 10 Nigerian artists (painters) is Peju Alatise, who is an artist, poet, and writer. She, along with one other Nigerian artist, was the first Nigerian artist to have their art displayed at Venice Biennale's 57th edition themed Viva Arte Viva (Long Live Art); the lady has dedicated half her life to creating invigorating art with her hands either on paper or on a canvas. One of Alatise's many famous artworks is the "Flying Girls".
Yinka Shonibare
Yinka Shonibare MBE is a Nigerian-British contemporary artist living in London. His artwork explores issues of race, identity and British colonialism – mixed with references to European fine art tradition. He uses several mediums, such as painting, photography, sculpture installation and film, to convey his message to his audience. His famous art pieces were exhibited at the 2016/2017 Disguise: Masks & Modern Identity.
Ben Enwonwu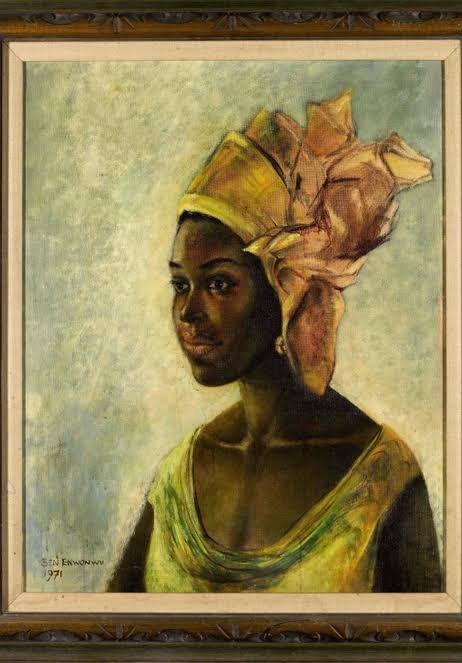 Ben Enwonwu was a Nigerian artist and sculptor best known for his iconic work of the Yoruba goddess, "The Queen Amina of Zazzau".He is considered one of the most influential figures in modern African art. In 2017, his painting titled "Tutu" sold for £1.2 million at auction, making it the highest amount ever paid for an artwork from an African artist, living or dead.
Njideka Akunyili Crosby
Njideka Akinyili Crosby works primarily with painting and photo collage. She received an MFA from Yale School of Art in 2012 before beginning her career as a professional artist, working mainly in painting and drawing. Since Njideka moved to the United States, her art has been a mixture of uniquely different cultures. She boasts of her art exhibited at the Whitney Museum of American Art.
Ade Adekola
Ade Adekola is a Nigerian-born contemporary artist, architect, author and entrepreneur. With roots in Britain, Ade Adekola took into digital artistry as he bends photography, interactive art and installations to his will in his artworks. His consistent themes revolve around migration, globalisation, and culture.
Twins Seven Seven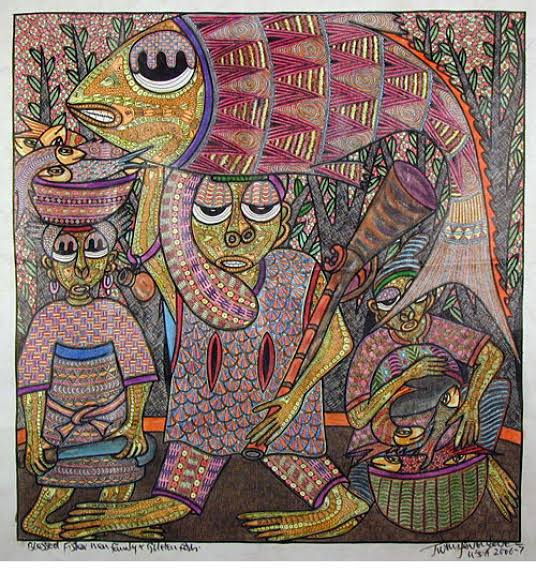 Taiwo Olaniyi Oyewale-Toyeje Oyelale Osuntoki (Twins Seven Seven) earns his name as the only survivor of seven sets of twins from his parents. The artist is one of the most renowned artists in Nigeria, as his skill began with pen and ink before graduating to etching and painting. He invented his style, laminating painting on wood (sculpture painting), in 1969. His work has been showcased in France's National Museum of Modern Art and the Houston Contemporary Arts Museum, to mention a few.
Nike Davies-Okundaye
The owner and founder of the 'Nike Gallery', Nike, is a textile designer and an artist. She is famously known for her batik weaving and exclusive art. Her art often mirrors the daily experience in Nigeria and is available throughout the West African region.
Sam Ebohon
Sam Ebobon is a visual artist with his artwork being featured in Nigeria and beyond. His blend of colours makes his art style outstanding as they evoke exciting visual effects in the eyes and minds of the audience.
Kareem Waris Olamilekan
At a young age, Kareem's art was one of the most unique and sought-after artists in Nigeria, with his talent focusing on hyperrealism. The young artist achieved stardom with his skills and art pieces as he drew samples for those around him. He often uses pencils, pastels, paints, and ballpoints to bring his vision to life, creating excellent work with his young mind and hands.
Morenike Olusanya
Morenike Olusanya is a visual artist, graphics designer, and illustrator popularly known as Renike. With a claim of being featured on GQ South Africa, Vogue, and more, Renike has achieved global status with her art. She was listed among the honorees of the Leading Ladies Africa's 100 Most Inspiring Women in Nigeria in 2021. In 2023, she won The Future Awards Africa for Art and Literature.
Ayomitide Adeyinka is a content writer, crypto journalist and editor with a Bsc in Political Science. He is also an egalitarian.