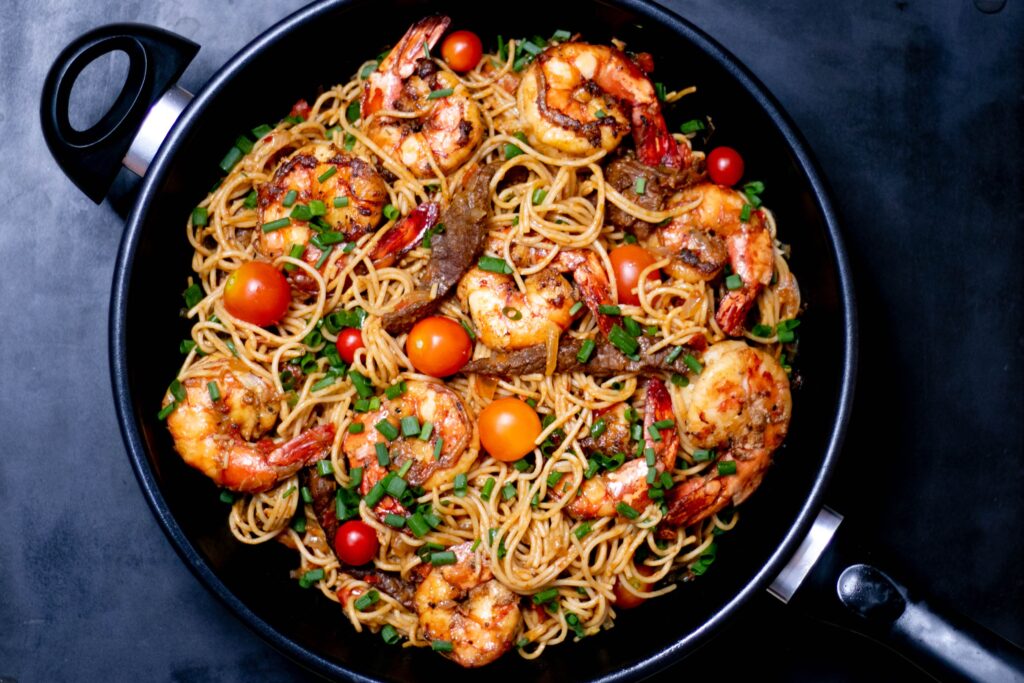 Being recognised globally as the giant of Africa is not an easy feat, as Nigerians bring the heat wherever they are. This week, we're listing our top 10 cooking content creators who bring the heat into their kitchens, serving us exciting delicacies that leave us drooling and wanting a bite of whatever they choose to cook.
The way to one's heart is through food, and these content creators understood the assignment, which is why they have hundreds of thousands of followers waiting on their latest posts with bated breaths and empty plates as we all wonder what the day's recipe will be.
Here are our Top 10 Cooking Content Creators
Diary of a Kitchen Lover
Chef T. is not just a chef but a movement. Serving her audience with mouth-watering Nigerian dishes, Chef T is a classic kitchenware influencer who does an excellent job at making her 1.2 million followers on Instagram want to cook with the prettiest cooking utensils.
SisiYemmieTV
If you are looking for where to find a meal inspiration along with a creative recipe? SisiYemmieTV has a YouTube channel with 949k subscribers; this chef provides her viewers with everything they need to know about food nutrition, recipe development, and food photography.
Zeelicious Food
Winifred Nwania, also known as Zeelicious Foods, is a cooking channel that educates the chef's 927k YouTube subscribers on preparing better, tasty, and savoury meals that capture the hearts of their friends and loved ones.
Gracie's Kitchen
With 495k followers on Instagram, Gracie wows her audience with spicy, tasty Nigerian dishes. Gracie is a bundle of joy in her videos, offering step-by-step guides on preparing your meals. She also recommends DIY healthy teas made from natural plants.
Dishes by Q
Qnet creates content with a blend of Nigerian and Intercontinental dishes. She speaks with 453k of her followers on Instagram, showcasing jaw-dropping meals along with tips on how to make healthy juices and smoothies for family and friends.
Sisi Jemimah
Sisi Jemimah is the aunt you want in your life, as she packs you a week's worth of delicious meals and recipes. With 405k Instagram followers, she creates exquisite food content catered to foodies.
The Kitchen Muse
A certified professional kitchen organiser, Bukie Akinmade educates her 403k Instagram followers on how to use their kitchenware and tools best, giving tips that aren't common knowledge. She helps her audience realise the potential of their kitchen tools.
Matse Cooks
Matse Uwatse makes one of the most beautiful continental dishes on social media. She was ranked 121 best bloggers in the world in 2020. On her Instagram page with 192k followers, this food blogger reveals food recipes and gives lessons on food photography.
Grace Value
Grace adds value to her meals, which is why we can't seem to get enough of her Nigerian dishes. Grace is talented as she consistently cooks meals from various Nigerian tribes. With 181k followers on Instagram, Grace demonstrates how cooking is a valuable skill.
Daniel Ochuko
Daniel is a food and lifestyle content creator, dishing the heartiest and most tantalising meals to entice his audience on Instagram. Daniel has 165k followers, and it seems the sky's the limit for this content creator as he continues to cook his way into our hearts with his Nigerian recipes.