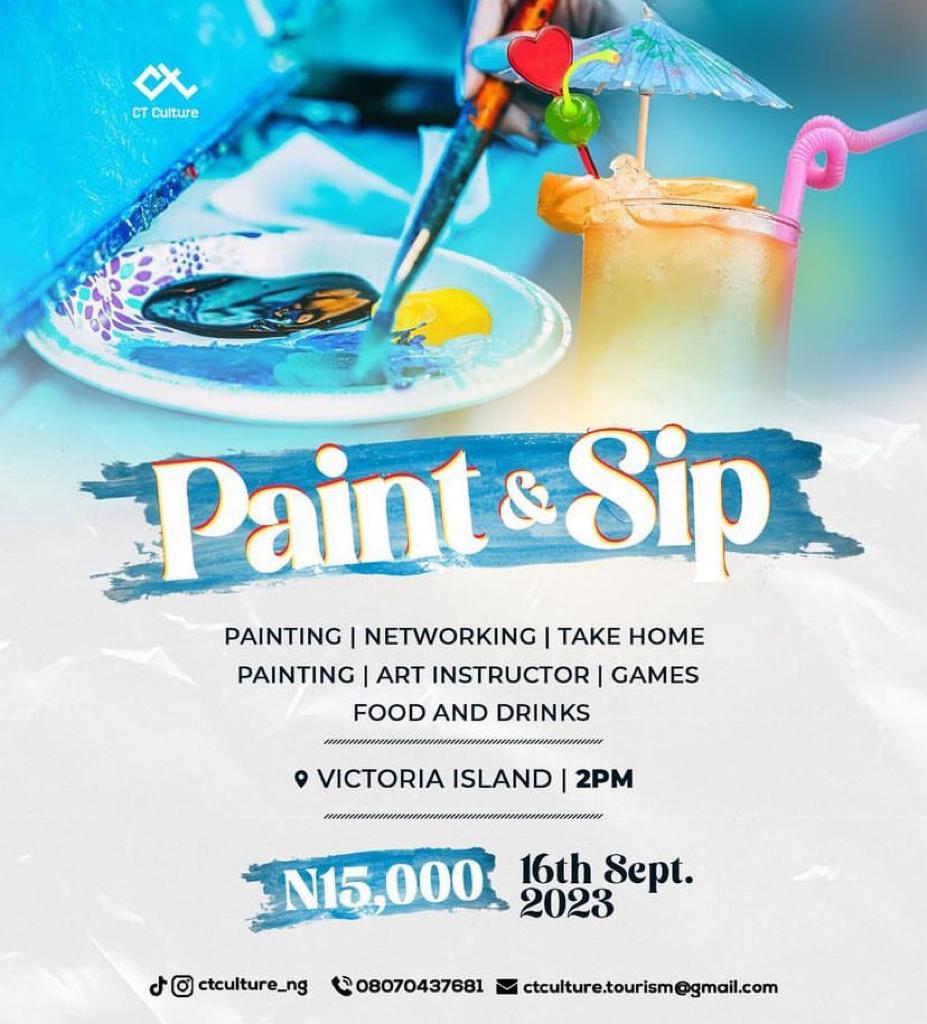 It's the weekend again; we're glad to be in our space for the next two days. What things do you have on your to-do list this weekend? Would you rather stay indoors and recuperate, or would you like to know where the party is this weekend?
It's Lagos State, the city that never sleeps, and tons of events are waiting for your attendance.
Here's a list of some events happening in Lagos this weekend that you can attend
Amapiano Party
Nigerian rapper Olamide wasn't joking when he said, "Amapiano is a big vibe." Today, Friday, 15, you can attend a beach party at 7 p.m. The location is at Wave Beach, with a ₦5,000 entrance fee. You could go to this party with your friends from work, let loose, and shake off the week's hassle.
Paint & Sip
Perhaps you've had a crazy week and would like a quiet event with just you, your lover or your friend? Don't worry, we got you covered. On Saturday, 16, at Victoria Island and for the price of ₦15,000, you can attend the Paint & Sip event; here, it's all about bringing out the inner artist as you network, vibe to chill music, drink wine, and play games. It begins at 2 p.m., and the most incredible part about this is that you get to take your art home!
Summer Smash
Are you looking to get turned up? On Saturday, 16, an event is catering to your specific needs. At Summer Smash, there will be live performances and lots of games to play with people; you can choose to go solo if you're looking to make new friends, or you can go party with your clique. Entry is, however, free by RSVP, so make sure you make up your mind and get tickets before time runs out.
See a Stage Play
A fan of theatre? Would you prefer to spend your weekend in a theatre hall as the actors on stage blow you away with their skills and performances? We've got just the thing for you. On September 16 and 17, you can be one of the excited audiences watching brilliant and talented actors bring this play to life. Titled "A Story by Nobody," this stage play will take place at Terra Kulture, with a ₦5,000 ticket fee.
Art Exhibition
Alliance Francaise welcomes you to participate in a comic art exhibition called "Hall of Spirits". September promises to be an exciting month as several events are happening between now and October that could catch your fancy. You could attend this art exhibition on 15, 16, and 17 as it will be on till October 7th. If you are a fan of comics and art, then the Mike Adenuga Centre would be your favourite spot to hang out as you explore and witness exciting figures.
Showtime All-Star Games
Do you need an experience that will get your blood pumping as you scream and cheer for your team? The 'Showtime All-Star Games' is an event you don't want to miss on Sunday, 16. Taking hold at Meadow Hall School, Showtime All-Stars will battle it out on the field with the defending champions, Outlaws. The event kicks off at 10:30 a.m.
Ayomitide Adeyinka is a content writer, crypto journalist and editor with a Bsc in Political Science. He is also an egalitarian.