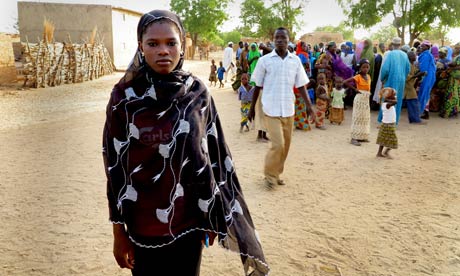 Ibrahim Kanuma winces as he recalls the moment a 63-year-old man asked him for his teenage daughter's hand in marriage. The proposal was not unusual in north-western Nigeria's remote, dust-blown state of Zamfara, but he considered the suitor too old for his only daughter, Zainab, 13.
"Even if he had been aged up to 50 – OK. But that old, he'll soon die and leave her lonely," says the civil servant in his peeling office in Gusau, the state capital.
To protect his school-aged child from the crushing stigma of widowhood, Kanuma instead gave his blessing to a union with a "reasonably aged" colleague – in his 40s.
For Kanuma and many others in northern Nigeria, the recent outcry over child marriage is puzzling. Zainab's marriage is prohibited under Nigeria's Child Rights Act, which bans marriage or betrothal before the age of 18. But federal laws compete with age-old customs, as well as a decade of state-level sharia law in Muslim states.
"I wouldn't force my daughter to marry somebody she doesn't like, but as soon as a girl is of age [starts menstruating], she should be married," Kanuma says.
The practice came under scrutiny in July, when legislators tried to scrap a constitutional clause that states citizenship can be renounced by anyone over 18 or a married woman, apparently implying women can be married under 18.
The obscure ruling will have little direct impact on the one in four rural northern Nigerian girls married off before they turn 15.
In the week headlines erupted over Yerima, Aisha, nine, was quietly rushed through the corridors of Zamfara's Faridat Yakubu general hospital. Its cheerful cornflower blue walls belie stories of the hidden horrors of early marriage. Aisha does not have the words for what happened to her on her wedding night. Her husband, she says, did something "painful from behind".
Nearby, Halima was on her third visit in three years. "I like it here. It is the only time I ever see a television," she says. Just shy of 13, the newlywed came under pressure to demonstrate her fertility. "I thought [being in labour] would never end," she adds softly.
In the tradition of the rural Hausa people of the north, women are expected to give birth at home. Crying out while in labour is seen as a sign of weakness. But after three days close to death in her village, Halima begged to be taken to a hospital. By the time her relatives had scraped together enough to ferry her to the state capital, it was too late. The baby had died.
The prolonged labour left Halima with a fistula, which causes uncontrolled urination or defecation. "Fistulas can happen to anyone, but are most common among young women whose pelvises aren't at full capacity to accommodate the passage of a child," says Dr Mutia, one of two practising fistula surgeons in Zamfara.
Despite the obvious link, he is reluctant to blame child marriage for Nigeria having the highest global rate of fistula. "The problem is not early marriage. It is giving birth at home," he says.
Small victories
There have been small victories in reversing the ripple effects of early and forced marriage, defined as forms of modern-day slavery by the International Labour Organisation.
Fifteen years ago, Zamfara's statistics director, Lubabatu Ammani, carried out a census to record the number of girls attending secondary school in the state. The results were shocking: fewer than 4,000 girls were enrolled out of a population of 3.2 million.
"It was a combination of dropouts, early marriage and religious misinterpretations," explained Ammani, who proposed creating a female education board to help remedy the problem. "We asked all the local emirs and found the main problem was that parents didn't want girls who had hit puberty to be in co-ed schools."
Female enrolment in Zamfara is at its highest since independence five decades ago, with 22,000 secondary school students. On most days, Ammani visits wavering parents to encourage them to keep their daughters in school.
Ammani welcomes the reawakened debate on child marriage but warns of its limits: "The fact is, a lot of people [here], when they hear the campaigning is by people from a different tradition or religion, they won't agree with it."
Others are more blunt. Haliru Andi, who served as Yerima's top aide while he led the call for sharia, bristles at the idea of interference with his faith. "How I even use the toilet, how I share my time with my family – everything is contained in my religion," he says in his Persian-carpeted living room. "How, then, can I take instructions from anybody who does not have a deep understanding of Islam?"
Cultural norms further muddy the issue. Posters outside Mutia's office exhort against another disturbing practice related to child marriage. In one, a woman is being forcibly restrained on a woven palm-frond mat. An assistant grabs her legs; another sits on her chest, and yet another reaches between her legs with a razor blade.
The scene shows a common recourse when a child bride refuses to sleep with her husband, prompting her parents or in-laws to drag her to the wanzan, or traditional barber. "This traditional barber, he doesn't understand anatomy. He thinks there's something obstructing the girl down there, and that's why she fears her husband. So anything he sees, he will just use his knife to cut it," Mutia explains. "They think they are helping."
None of the northern-based grassroots Muslim activists the Guardian interviewed wanted to go on the record about child marriage – reflecting, says one activist, the difficulties women face "going against the grain".
The storm of Twitter and online commentary has translated into a handful of protests in the more liberal south, which is predominantly Christian but also home to millions of Muslims.
In the tiny village of Rigasa, flanked by baobab trees and fields of millet, Nafisa, 14, draws letters in the powdered maize she grinds every morning for herself and her in-laws. A-B-C-D, she writes. It is all she remembers. "My husband gets angry any time I asked him if I can take up my schooling again, so I stopped asking. But my heart is in school," she says.
Read more: The Guardian